No kissing, hugging: Saudi female students told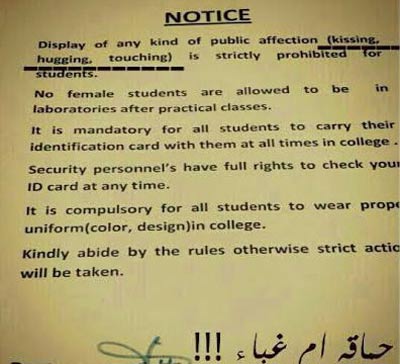 A female pharmaceutical college in Saudi Arabia went out of its way to warn students against kissing or hugging and threatening action against those who not abide by the rules, a newspaper in the conservative Gulf Kingdom reported on Tuesday.

The warning was included in a bit notice board put up by the college in the southern province of Jazan and signed by the dean, triggering anger by the students who sent a copy of the rules to the Arabic language daily Sabq and social networks.

Sabq said the students sent the copy and added their own phrase at the bottom of the notice, saying :"Is it stupidity or foolishness."

The copy of the notice published by Sabq said:"Display of any kind of public affection (kissing, hugging, touching) is strictly prohibited for students."

The notice also told the students to carry their IDs all the time, wear proper uniform and not to stay in laboratories after classes.

"Kindly abide by the rules, otherwise strict action will be taken," the notice said, according to Sabq.
Follow Emirates 24|7 on Google News.