Obama weighs in on his wife's hair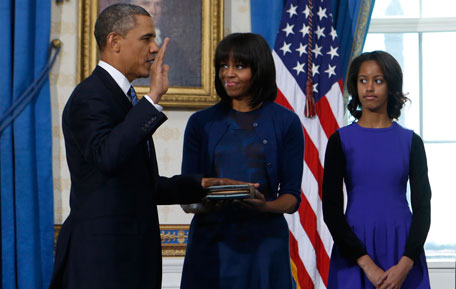 President Barack Obama, who began his second term on Sunday, weighed in on what he facetiously said was the most "significant" event of the weekend: his wife's new hairstyle.
First lady Michelle Obama, a Harvard law graduate known as much for her sharp fashion sense as her fight to curb obesity, revealed a new hairstyle recently that features bangs. The new hairdo has attracted a lot of attention.
Speaking at a reception with supporters the night before giving his inaugural address, Obama said he liked the look.
"First of all, I love Michelle Obama. And to address the most significant event of this weekend, I love her bangs," Obama said to laughter and cheers from the crowd.
"She looks good. She always looks good," he said.
On Monday, fashion mavens will be waiting to see what the first lady wears to the inauguration ceremony at the U.S. Capitol and the presidential inaugural balls.

Follow Emirates 24|7 on Google News.