Police hunts Facebook user for posting PM wife's doctored photo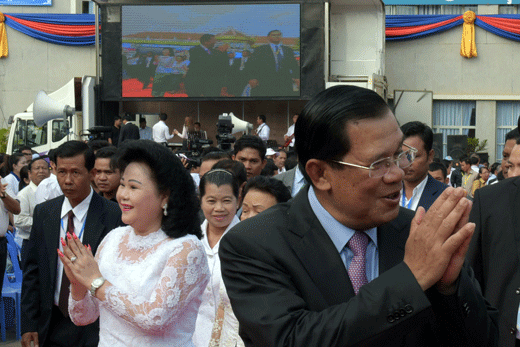 Cambodian police have appealed for Interpol's help to arrest a Facebook user who allegedly posted a doctored photo of Prime Minister Hun Sen's wife to damage her "honour and dignity", a government official said Tuesday.
It is the latest attempt to control social media in the kingdom, despite efforts by Hun Sen to ramp up his own online persona as he bids to extend a 31-year hold on power.
The photo, which briefly went viral before the Facebook account was apparently taken down, showed a holidaying Hun Sen in casual clothes posing with his grandchildren and wife Bun Rany.
She is seen smiling, in sunglasses and three-quarter length trousers, but is standing with her legs apart.
That stance is considered deeply inappropriate in conservative Cambodia, where women are expected to pose demurely with their legs together.
Authorities say the holiday snap was taken from Hun Sen's Facebook page, doctored and shared to denigrate Bun Rany by another user "Haknuman Leung".
"The act damages the honour and dignity of the First Lady of a nation," General Khieu Sopheak, spokesman for the Ministry of Interior, told AFP.
Police have identified the poster as a Cambodian "who lives overseas" and have issued an arrest warrant, he added.
"We are working with Interpol to issue a Red Notice for the person," he said.
That notice is the highest alert to Interpol member states to find and arrest a suspect, with a view to extradition, and is normally reserved for serious criminals.
An enraged Hun Sen blamed opposition "extremists" for the photo.
The incident comes as Hun Sen belatedly embraces social media to court votes from the kingdom's youth, many of whom support the opposition.
The premier recently launched a mobile app and a website in addition to his Facebook page -- which has harvested nearly two million 'likes' since September.
While Hun Sen has said he is open to constructive criticism, he has warned Facebook users who insult him that they can be easily traced.
A young man has been charged with issuing death threats to the premier in a Facebook post on Hun Sen's page.
Last year, a 25-year-old student was also arrested over an alleged Facebook post calling for a "colour revolution" in the country.
Follow Emirates 24|7 on Google News.