Smallest house in Brussels up for auction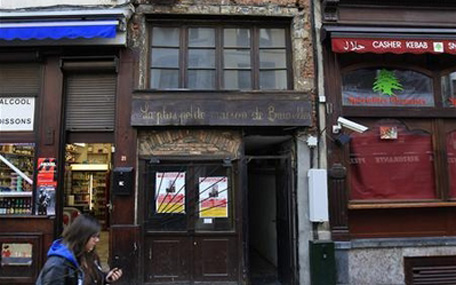 Cosy might be the best word to describe the smallest house in Brussels, which is about to go up for auction.
The centuries-old former furniture workshop and creperie a stone's throw from the Belgian capital's picturesque central square is just 2.75 meters wide and has a ground floor only 1.75 meters (5 foot 9 inches) across.
"There's a lot of interest and there are also a lot of tourists who want to see it," said Claude Rotsart de Hertaing, a Brussels pensioner who works part time showing prospective buyers around houses.
The dilapidated five-floor Belgian townhouse, just off the central Grand Place square, has "La plus petite maison de Bruxelles" (The smallest house in Brussels) written across a faded wooden sign above the entrance.
It is not Europe's narrowest however, which tourist officials in Slovakia believe could be a 1.3 meter wide house in its capital Bratislava.
The Brussels house, squeezed between a pizzeria and a souvenir shop, has floors each of about 16 meters squared, apart from the ground floor which is even tighter as it has a pathway running to a courtyard down the side.
On one floor it has a potentially inviting fireplace, but you might singe your knees if you sat facing it on an armchair.
The house will be auctioned on February 6, starting at a price of 146,200 euros ($194,700).
Follow Emirates 24|7 on Google News.