Strongman fools viewers with no-handed push up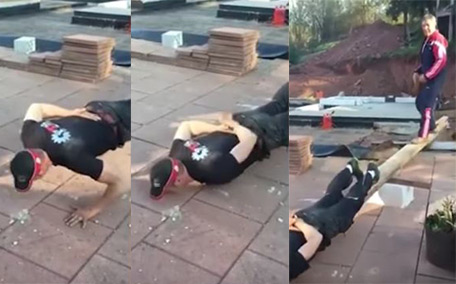 A strongman has amazed audiences with his footage of a no-handed push up - though it was all a fake.
The video footage of the unnamed man fooled viewers as he seemingly managed to complete impressive one armed push ups and taking it one step further by attempting to do the impossible and removing both hands from the ground to complete no armed push ups.
However, at the end of the video it is revealed the man doesn't actually have super human strength, and the whole video was in fact a fake.
Throughout the video, the man's legs are partially out of shot, raising suspicion that there might be something going on that viewers can't see.
The big reveal comes at the end of the footage when the camera zooms out to show the man laying on a plank of wood balanced like a see-saw. Another man is stood at the other end of the plank, acting as a weight to tip the man up and down on the plank, giving the illusion from the ground that he is completing impressive physical feats.
Despite the clear trickery, the video has been shared around social media.
Follow Emirates 24|7 on Google News.