Tintin comic cover stars at Brussels art fair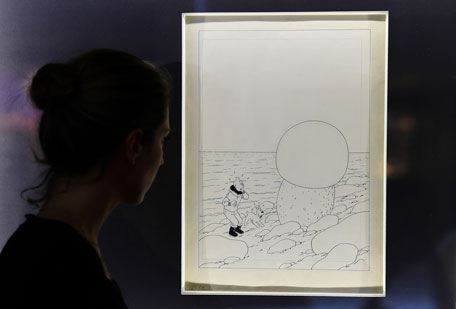 Intrepid boy hero Tintin stars at one of Europe's top art fairs next week when the original cover of his 1942 "Shooting Star" adventures goes on sale for 2.5 million euros.

The yellowing sketch by Belgian creator Herge shows Tintin and his faithful dog Snowy on a barren rocky beach looking in astonishment at a huge mushroom.

In its finished form, brightly coloured, the red-and white capped mushroom looks like a well-known and very dangerous psychedelic fungus.

The drawing has attracted huge interest from fans and collectors alike who are increasingly prepared to pay huge sums for such iconic works.

A rare 1939 Tintin cartoon sold for 539,880 euros in December while in May, a two-page spread depicting Tintin across various adventures was bought for 2.65 million euros in Paris, a world record equal to $3.58 million at then prevailing exchange rates.

It was all very different not so long ago.

"Twenty-five years ago when you went to a comic strip creator like Tardi ... to buy a cover, they would look at you oddly as if to say 'and who on earth is interested in that'," said Alain Huberty, part-owner of the local gallery selling the cartoon at the Brussels Antiques and Fine Arts Fair.

The "Shooting Star" cover - "L'Etoile Mysterieuse" in the original French -- is just one of five still in the hands of private collectors while the bulk of Herge's work is now held by a family foundation set up after his death in 1983.

Exceptional price for exceptional piece

Such cartoons first attracted collectors in the 1980s who would often sell them on to specialist bookshops, eventually drawing in the public and then the auction houses as their creators won recognition as artists in their own right.

Herge was among the first sought out, followed by other major talents in the Franco-Belgian stable such as Franquin, responsible for Spriou and Gaston LaGaffe, Peyo who gave the world The Smurfs and Jacques Martin with Alix.

"The price is determined first by the name and then by the quality," said Huberty.

"An exceptional piece can command an exceptional price, as the Tintin sales show."

At the same time, Huberty cautioned against getting carried away, warning that there could be a "bubble" building in prices for second-rank works but not for the greats such as Herge.

In the United States there is huge interest in cartoon books, elevated to pop art form by the iconic paintings of Roy Lichtenstein and providing the inspiration for a cast of superheroes and villains likely to be on a cinema screen near you right now.

A near-flawless edition of the first book featuring Superman dating from June 1938 fetched $3.2 million in June, according to online auction site e-Bay.

The seller Darren Adams, a collector in Washington state, described it the time as possibly the "best copy in existence", the "Holy Grail" of comic books.

Many in Belgium might dispute that claim and be prepared to back their view with hard cash.
The Brussels Antiques and Fine Arts Fair (www.brafa.be) opens 24 January for a week.

Follow Emirates 24|7 on Google News.