Two camels escape from France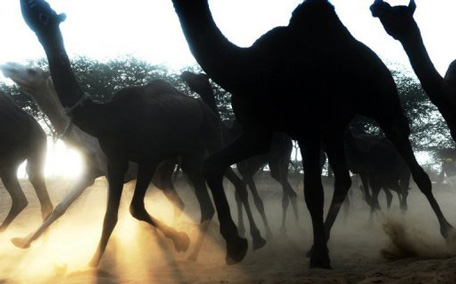 Two circus camels, Simbas and Judas, disappeared in the middle of the night in central France and are still missing two days later, the director of the circus said Monday.

The two dromedaries - five-year-old, 800-kilogramme (1,765-pound) Simbas and three-year-old, one-tonne Judas - were part of a caravan of performers and animals that went to the French countryside to wait for new gigs after the Paris circus abruptly stopped touring following a road accident last summer.

Members of the circus troupe, who kept the camels along with llamas, goats, donkeys, a pony and a member of a long-horned species of African cattle called the Watusi, said they visited the animals daily and that neighbours regularly brought hay, straw and carrots for them.

"We realised yesterday and lodged a complaint with the police, who are investigating," circus director Mickael Douchet told AFP from the small commune of Estivareilles in central France.

Local broadcaster France 3 reported that the circus troupe believed animal rights activists may have targeted the camels.
Follow Emirates 24|7 on Google News.