Woman, 93, gets diploma once denied as she was married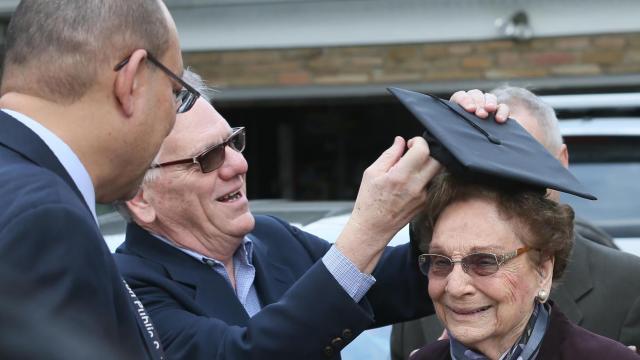 A 93-year-old Ohio woman has received the high school diploma she was denied in 1942 because of rules that expelled married students.
Dorothy Liggett was a few weeks from graduation from Akron's North High School when officials discovered she was married.
Akron Public Schools Superintendent David James hand-delivered the diploma to Liggett in a surprise ceremony Wednesday in suburban Fairlawn, The Akron Beacon Journal reported.
Liggett's daughter Janice Larkin had written to James about her mother.
James said he read the letter and researched what happened.
"I felt terrible for the way Mrs. Liggett was treated all of those years ago and wanted to do what we could to make it up to her," James said. "To have invested 13 years in school, to have been a good student and still not receive a diploma because of that, was simply wrong."
Liggett and her late husband, John Huston, had run away to Kentucky to get married after he was called into the U.S. Army Air Corps during World War II. Huston graduated from North High School two years earlier. The two had planned to have Liggett join her husband after she graduated.
During one school day, Liggett forgot her gym attire and the teacher told her to go to study hall. Liggett said she replied, "No, I'm married. I'm going home."
The school then acted on its policy to ban married students.
Superintendent James said they felt Ligget's birthday was the perfect occasion to make amends.
"While it may be an honor for Dorothy, for us it is a long overdue recognition," James said.
Follow Emirates 24|7 on Google News.