Cross-eyed opossum becomes Internet hit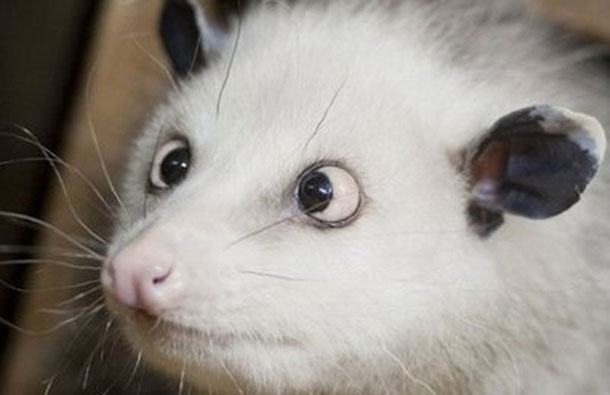 A cross-eyed opossum in Germany called Heidi who is not yet even on public display has become an Internet hit, winning more than 65,000 admirers on social networking website Facebook.
Heidi is thought to be two and a half years old, and was abandoned outside an animal shelter in North Carolina in the United States, together with her sister Naira, and has been in Leipzig zoo in eastern Germany since May.
The sisters, plus a third male opossum called Teddy, arrived via a zoo in Denmark, and will make their public debut on July 1, the German zoo says on a special Internet page set up for Heidi's fans.
The zoo believes the marsupial's eye problem may be to do with her diet before she was abandoned, or because she is overweight, leading to fat deposits behind her eyes. Otherwise she is completely normal and not in pain.
"Apart from aesthetically, this situation is not a problem," the zoo says. "As animals that are active at night, opossums find their way around using their noses."
Her popularity is reminiscent of the success of a polar bear called Knut in Berlin who as a cub became an global media star and money-spinner in 2007, even featuring on the front page of Vanity Fair magazine.
But Leipzig zoo said that it is not planning any "active marketing" of Heidi, and says it would devote any income from third parties that it might earn to a project supporting rhinos in Borneo.
This could include proceeds from a catchy song about Heidi sung by three girls, it said. A German firm has reportedly already begun making stuffed toys of Heidi.
"You can all visit me from July 1 ... but not all 65,000 at once," reads a "message" from Heidi on her Facebook page.
Follow Emirates 24|7 on Google News.