'Dating' site dumps 30,000 ugly faces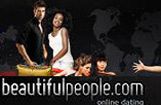 Beauty lies in the eyes of the beholder is outdated a phrase, if the latest fury sweeping the virtual world is any proof.
Beautifulpeople.com - the Denmark-based site billed as a dating website for beautiful men and women - culled 30,000 members claiming they are 'ugly', according to a report on 'Foxnews.com'.
Last month Beautifulpeople.com was the victim of a cyber attack in which the Shrek virus attacked the software used to screen applicants, allowing an influx of new members, 'The Guardian' reported.
The high aesthetic standards of the site has come under attack by heart-broken members, so much so the site's operators have set up a counseling helpline to ease the pain of rejection. "
"The website works on a system under which members are able to rank applicants on a beauty scale. The decision to reject 30,000 cost the company more than $100,000 in refunds and Hodge sent a regretful email to the distressed dumpees," said Greg Hodge an official at the website.
This is not the first time the website has stirred up vehemence among people. In January, it asked 5,000 users to reapply after they posted pictures of themselves looking chubbier than usual celebrating the festive season.
And earlier this month it sparked controversy in Ireland by declaring that Irish men were among the world's ugliest.
Follow Emirates 24|7 on Google News.