Groundhog defies US storm; predicts early spring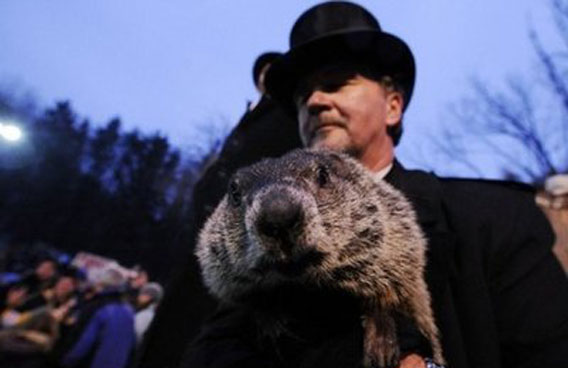 Defying an epic snowstorm that has crippled an enormous swath of the United States, America's iconic groundhog Punxsutawney Phil emerged from his burrow Wednesday and predicted that spring is right around the corner.
The weather-forecasting rodent failed to see his shadow upon emerging from his hibernation, which according to US legend, augurs an early arrival of mild springtime weather.
"No Shadow, Spring is Near! trumpeted the groundhog.org website which monitors Phil's every move in the days leading up to the annual rite.
On Groundhog Day which falls each year on February 2, crowds gather in the town of Punxsutawney Pennsylvania to watch members of the town's groundhog club pull the toothy woodchuck out of his burrow and announce whether winter will be trailing off, or if Americans should brace for more cold.
The tradition was inherited from German immigrants who monitored the animal's behavior closely to make decisions about when their fields should be planted.
If the groundhog does not see his shadow, the old saw goes, he comes out of his burrow and ends his hibernation because the arrival of spring is imminent.
Punxsutawney held its first Groundhog Day in the 1800s, according to the website.
The current spectacle has become a major tourist attraction particularly after the release of the hit 1993 "Groundhog Day" Hollywood comedy starring Bill Murray.

Follow Emirates 24|7 on Google News.