Hunt on for a killer rooster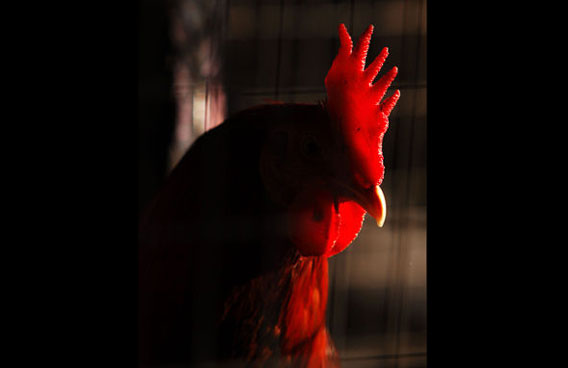 Indian police are hunting for a killer rooster after the fighting bird slashed its owner's throat with razor blades attached to its legs for the cruel sport of cockfighting.
Police say the "dangerous rooster" is thought to have killed Singrai Soren after being forced back into the ring soon after his last fight, according to a report in Britain's The Sun newspaper.
Witnesses said the rooster's owner died after being slashed as the rooster thrashed about.
Police issued a description of the offender: "an unknown rooster with black and red feathers".
They want to catch the killer to remove the blades but the chances of apprehension are slim because there are so many roosters matching the description, The Sun report said.
A friend of the victim, named only as Dasai, said: "The rooster tried to get away from the ring several times but Soren tried to push him into the ring repeatedly. This upset him and he attacked."
Those around the ring only realised what had happened when blood started pouring from the rooster's owner.
Dasai said roosters are used to an hour-long break between bouts.
He said: "Most masters are satisfied with the cash reward of £28 for every fight and a dead opponent to feast on but Soren seemed unsatisfied.
"He wanted him to go into the ring within a few minutes of his first fight and that is when the rooster began to complain."
Six days on, police suspect the prized rooster is being sheltered by a rival trainer keen to put the champion bird back in the ring.
Follow Emirates 24|7 on Google News.