KFC launch prank healthy burger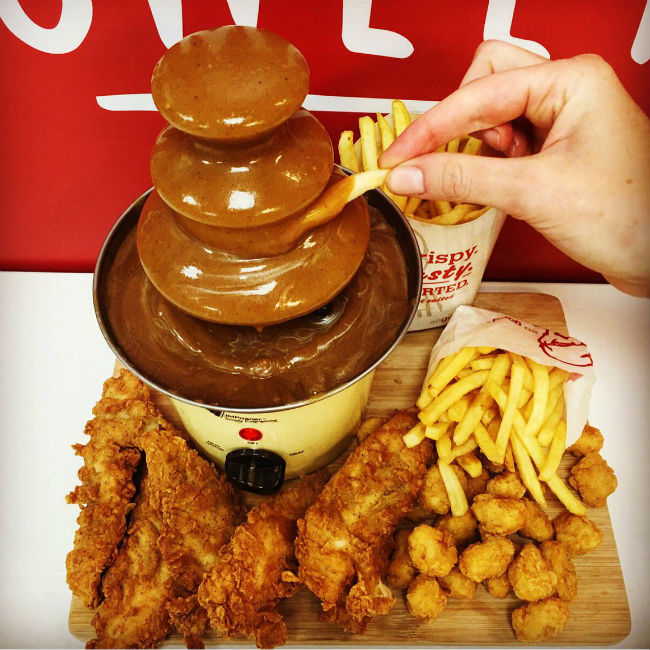 KFC have launched a "clean eating" burger, but it's all a publicity stunt to promote their new limited edition burger, the Dirty Louisiana.
The fast food chain has tapped into the world of healthy eating by creating a burger that consists of nothing but healthy ingredients, but have admitted it's just a joke to advertise their latest limited edition burger, the Dirty Louisiana.
The Clean Eating burger uses a whole raw cauliflower to serve as the bun, which is then filled with raw kale, boiled chicken, watery crushed ice relish, and unsweetened almond yoghurt, before the 'bun' is topped with chia seeds to replace the usual sesame seeds you'd find on top of a regular burger bun.
However, whilst the Dirty Louisiana burger certainly doesn't sound as healthy as its fake counterpart, it's probably a whole lot tastier.
The real KFC treat features the original secret recipe chicken that the brand is known for black pepper mayo, BBQ sauce and secret 'Supercharger Sauce', before being layered with cheese, gerkins and a hash brown.
A spokesperson for the brand told the Daily Mirror: "Life's too short to eat joyless food - get down to your nearest KFC and enjoy the taste of our sauciest burger ever, The Dirty Louisiana."
The Dirty Louisiana is available at KFC stores until March 26.
Follow Emirates 24|7 on Google News.