Mama sheep gives birth to a baby dog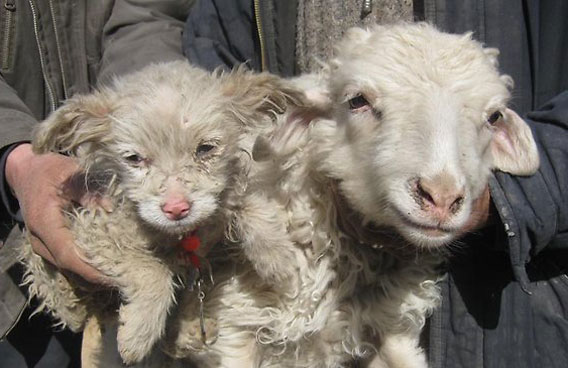 IT would - if true - give a whole new meaning to being a sheep dog.
Scientists say it's impossible, but Chinese farmer Liu Naiying believes he is the proud owner of a miracle - a sheep that has given birth to a dog.
(AGENCIES)
The "puppy" has wool like a lamb but its mouth, nose, eyes, paws and tail look more like those of a dog. Thousands of people have visited Mr Liu's Shaanxi province farm to see for themselves.
"I was herding the sheep, and saw a sheep licking her newborn lamb on the grassland," Mr Liu said.
"When I went up to check I was shocked because it looked so weird, like a cross between a sheep and a dog.
"I was a bit frightened, as I've been raising sheep for 20 years and had never seen such a creature."
Researcher Yue Guozhang said "it's likely that this is just an abnormal lamb". Shiney Ahuja Clear-headed Sonakshi Sinha Shah Rukh Khan Ashley Cole Cheryl Cole
Follow Emirates 24|7 on Google News.