Nadal not shirty about wolf whistles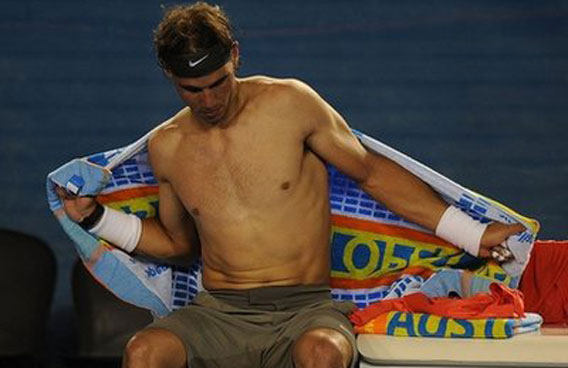 Rafael Nadal says he has a good feeling when women wolf-whistle and snap photos of him changing sweaty shirts during his tennis matches.
The Spanish world number one has a legion of fans around the world and he wows the females, old and young alike, when his shirts come off to expose his powerful physique.
Nadal was at it again during his straight sets fourth round victory over Marin Cilic in the night match at the Australian Open in Melbourne on Monday.
Asked how he felt when women whistled and took photos of him changing his shirt, Nadal flashed his trademark smile and said: "That's a very good feeling."
Nadal is set to become the new face of the spring/summer collection by Giorgio Armani after a recent photo shoot.
Rafa posed topless in a pair of jeans and also in a pair of white undies with the black and white photographs to appear on billboards next month.
"It was a long experience, but very good experience, no?" he said.
"It's always nice to experience different worlds. The fashion world is something that I didn't know before.
"It was a good session of photos, a long one, but hopefully the results will be satisfactory.
"I worked very hard, seriously. So, yeah, it was nice and a different experience and I enjoyed it."
Asked by a female reporter at his post-match conference if he felt he was sexy in the photos, he said: "I'm not the right person to say. But what do you think? Do you like it?"
The reporter said yes, to which Nadal replied: "I'm happy if you like it."
Follow Emirates 24|7 on Google News.