Now this is true love... ink a tattoo on your heart!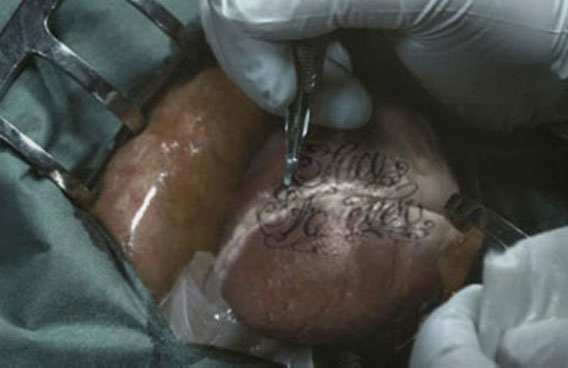 Expressing emotions through tattoos on one's body is now passe. Have it etched on your heart! And isn't that true love anyways?

True Love Tattoos helps you proclaim your love to that someone special in a special way, indeed, in what they refer to as a soul canvas, if reports on the Web are to be believed.
The operation takes less than three hours - from the choice of tattoo until you have a polaroid proof in hand. However, they suggest you get someone to escort you home after surgery.
The highly professional team have so far performed more than 500 successful operations without any major complications. They provide a wide range of styles from old school to Japanese. You choose the art, they put it on your heart.
But the genuine question - how will you prove to your loved one that you have honoured him or her? Well, you will recieve one polaroid picture of your tattoo on place, and also a video recording of the whole procedure. By the way, this video comes with a great soundtrack from new amazing rock band 'Vikunja'.
The process they claim is "totally safe" and the time the procedure takes varies from the size of the tattoos and, of course, it takes longer for big-hearted people.
Another logical query - what if a person with high blood pressure opt for a tattoo on his heart? Well, the colour shines brighter, they claim.
Their only warning is do not get a tattoo if you have a weak heart, are ink intollerant or if you are not sure you're really in love. Simialrly, avoid getting a tattoo if you have a newly broken heart. Let it heal for at least three months.
Laser erase surgery is available but not recommended. They also supply a special divorce discount if you can prove your partner cheated on you.
In some cases they recomend you to cover up your old tattoo with a new one, they are especially skilled in making football team crests. This satisfaction cost about $9,000$ to $12,000 depending on the type of tattoo.
Follow Emirates 24|7 on Google News.