Philippines catches fake nuns going to Lebanon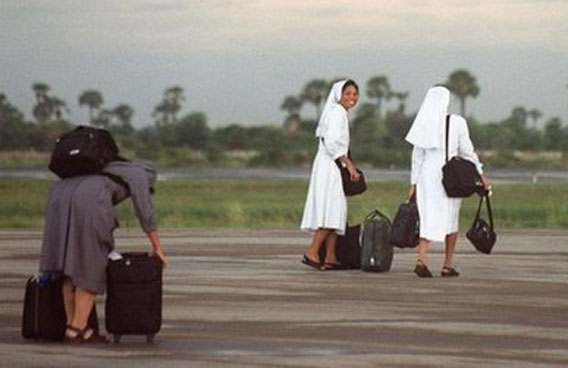 Six women were detained at Manila airport after being caught trying to sneak into Lebanon dressed as nuns in a bid to get around a travel ban to the country, according to the immigration bureau.
The women on Saturday were pretending to be on their way to Hong Kong for a religious seminar but their unusual dress and behaviour alerted officials.
Under questioning they eventually admitted they were actually on their way to Lebanon to work as domestic helpers.
The Philippines has banned people from going to Lebanon to work as helpers since 2007 due to the security situation and inadequate legal protection for its labourers there.
"Their appearance aroused our suspicion especially after we noticed that one of them had red shoes, a colourful handbag and wore her nun?s costume improperly," airport immigration officer Joel Valencia said in a statement.
Investigators are now trying to locate the man who illegally recruited them for work in Lebanon, the bureau said.
Despite the travel ban on workers, many Filipinos have gone illegally gone to work in Lebanon, circumventing the restrictions by travelling through third countries.
Follow Emirates 24|7 on Google News.