Stockholm museum sifts through our trash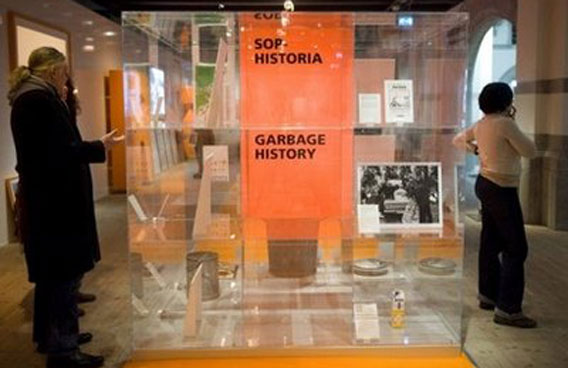 It may not be the Mona Lisa, but an old, empty milk carton and other trash we toss away can also tell an interesting story about our culture, our history and ourselves, according to a new exhibit in Stockholm called "Garbage".
"We are ethnologists and we are interested in how people live, and we found it interesting to look into how they act when it comes to garbage," says Christina Matsson, who heads up the Nordiska museum in central Stockholm that recently opened a whole exhibit on the topic.
The first and most obvious conclusion to be drawn from the samples of rubbish gathered through the ages is that our garbage has changed dramatically in step with our own changing times.
An 18th-century pair of discarded trousers says a lot.
It was worn until faded and threadbare, repeatedly mended, darned, patched until it was finally used to help to fill in a large crack in a wall and block a cold draft.
Compare that to a pair of 2010 hip, Swedish branded jeans, which have been industrially "pre-used" and ripped, and carries a sales notices informing the consumer that the "new" product has "half the life but double the look."
Another stark contrast can be seen in a modest, antique doll from the Swedish Lapland, dressed simply in a ragged piece of cloth cut from a worn-out old curtain.
The caption below the doll showcase reads: "Young Swedes today on average have 536 toys during the course of their childhoods."
Reusable, cotton sanitary napkins, broken china repaired with metal staples, carpets made entirely out of used and left-over fabric scraps: recycling is no modern concept - in the squalid 18th and 19th centuries it was the norm.
"What we want to show is that during that period, nothing, or virtually nothing was garbage," explains Lena Landerberg, the exhibit curator.
That mentality abruptly ended around 1920, when the "garbage-emptying" era set in, lasting unabated until the early 1980s.
Things were consumed and tossed aside at a dizzying speed, and few questioned the reining attitude until a gradual ecological awakening first brought us garbage bags at the end of the 1960s and eventually the idea of sorting and recycling our trash.
Today, Swedes each on average throw away about a half tonne of garbage every year - which is still three times less than the average American - if you only count their domestic "production".
"Our objective is to push people to think. We do not want to point a finger. People are raising lots of questions and a lot of them are trying to show an environmentally responsible attitude," says ethnologist Erik Ottosson-Truvalla.
After having interviewed and observed many people in the process of discarding their garbage, he says he is most drawn to "the feelings" that, more or less consciously, bind us to the objects we throw away.
"In recycling centres, it is fairly common for workers to set aside the day's finds. It is like a short break before destroying them, an improvised, temporary exhibit," he says.
Curator Landerberg meanwhile stresses that our trash "raises difficult questions."
"Why do we keep, why do we throw away? Why can a thing be considered garbage by one person and not by another? Garbage is often a question of point of view," she says.
The small temporary exhibit is included in the general entrance fee to Nordiska (80 kronor, nine euros, $13, but free for anyone under 19 years of age), and will be on display until September 25.
Follow Emirates 24|7 on Google News.