2 dogs save elderly woman from freezing outside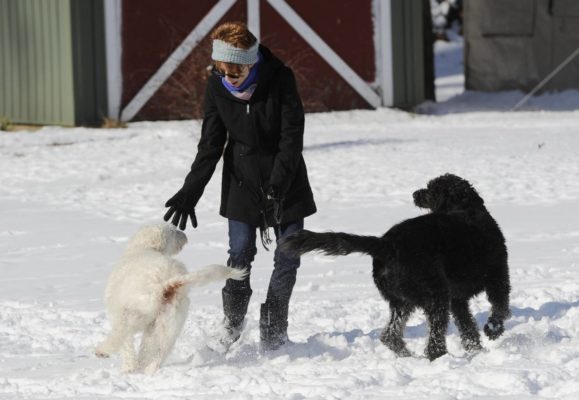 Two insistent labradoodles are being credited with saving an elderly Michigan woman from freezing to death outside.
Lonnie and Susan Chester told the Jackson Citizen Patriot that their dogs, Adam and Eva, began acting strangely Sunday. The animals wanted to be let outside early in the morning, something they don't normally do.
"(Adam) never tugged on my clothes before, so I was cautious about letting them out because I didn't know if there was anything out there," Lonnie Chester said.
Before she could fully open the door of their home in Norvell Township, the dogs bolted outside. They ran to a woman in her 80s who was freezing on the ground in only a night gown.
"She looked up at me and said, 'I'm so cold,'" Lonnie Chester said. "I have no idea how long she had been out there. She must have been terrified."
He said he brought the woman inside, covered her in blankets and called police. The temperature at the time was around 9 degrees (-12 Celsius), according to the National Weather Service.
The woman's family arrived at the house shortly after rescue crews arrived. The family had been searching for the woman but had been unable to see her lying in the snow in the dark. The woman was taken to a hospital for medical treatment.
"It could have been a tragic outcome had Adam and Eva not woken us," Susan Chester said. "I don't know how they knew she was out there."
Follow Emirates 24|7 on Google News.