Britain's Duchess of Cornwall handed parking ticket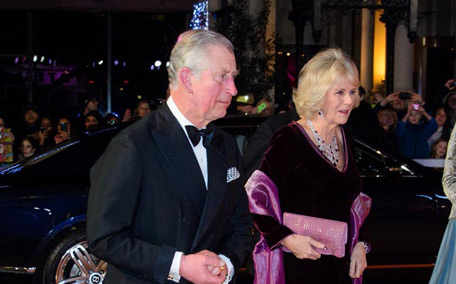 Britain's Duchess of Cornwall was handed a parking ticket as she toured the Poppy Factory in London.
The 68-year-old royal was visiting the charity's centre in London when she was presented with the penalty charge notice by paratrooper-turned-parking enforcement officer Richard Dungate.
When he handed her the gift, she joked back: "I'll have to hang this up on my wall."
Richard also spoke of his "honour" at having a chance to meet the Duchess.
He added to HELLO! magazine: "I was going to put it on her motor, but they wouldn't allow me. It was an honour to meet the Duchess - what a lovely lady and she listens as well."
Duchess Camilla has been a patron of the charity, which aims to provide employment for ex-servicemen, since 2013.
A post on their official website reads: "We are the country's leading employment charity for veterans with health conditions or impairments. By providing free, ongoing employment support and bespoke opportunities within businesses across the country, we have helped hundreds of disabled ex-Service men and women to restore their financial independence through sustainable and rewarding careers.
"Our vision is that every disabled veteran should have the opportunity for meaningful work. We also employ a workforce of disabled veterans and their dependents at our headquarters in Richmond, Surrey, to make the Remembrance poppies, crosses and wreaths for The Royal British Legion and The Royal Family - something we have been doing for nearly a century."
Follow Emirates 24|7 on Google News.