Haunted Apple laptop: Holds pen, writes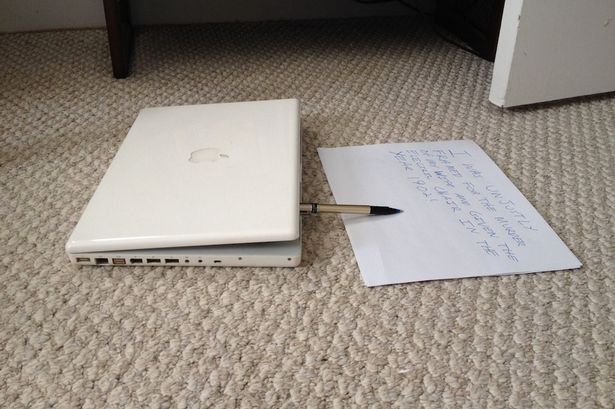 An Apple MacBook is up for sale on ebay. It comes with a 2Ghz processor and 4GB of RAM and runs OSX 10.6.8… and...it is haunted!

Ebay user Wfatzinger, claims that the laptop screen and keyboard opens and shuts quickly as if 'attempting to speak' and manages to communicate by chilling handwritten messages from beyond the grave, reports 'Mirror'.

Wfatzinger claims that the 'ghost' communicates by grasping a pen between the keyboard and monitor and writing on pieces of printer paper.

He first noticed his laptop had become haunted when he "left it in a graveyard next to an abandoned mental hospital all night by accident".

All his songs in iTunes had become haunted and scary, he claims. He had gone to the graveyard to sketch gravestones and took the laptop to play music, but forgot it there. And when he returned it was still open and playing Beethoven.

Since then, it has been creepy. Even his desktop picture changed itself into a scary one, he claims.

And then things around started becoming eerie. One day when he returned home with his wife, he noticed all his baseball cards 'were out of order'.

Wfatzinger claims he decided to put up the device on sale after trying his best to "cleanse the spirit"and wasting money on expensive incense in vain.

The creepy computer has already attracted 35 bids, worth $182.50.
Follow Emirates 24|7 on Google News.