Now you too can be Prince William's fiancee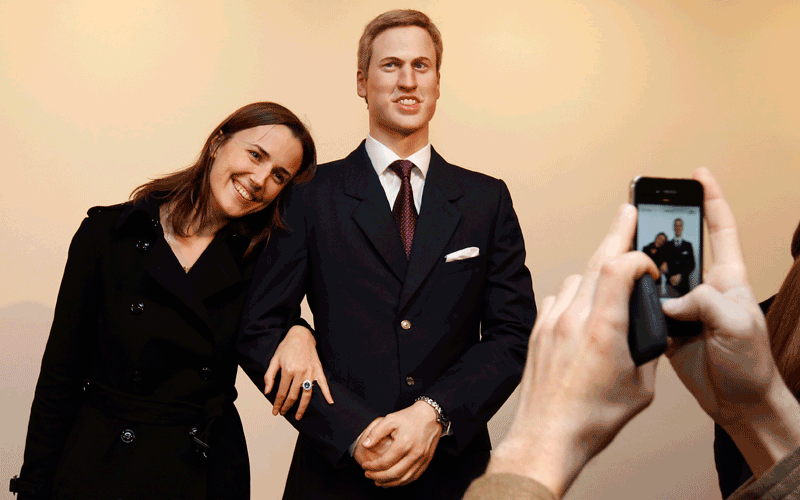 You might be disappointed that you weren't standing in Kate Middleton's shoes when she and Britain's Prince William told the world they were engaged, but you can still be in the picture for the photo opportunity.
American artist Jennifer Rubell has created a life-sized waxwork of William which mimics his pose at the press event on the day the engagement was announced.
Best of all, you'll discover that when you slip your hand through the royal arm, there is already a replica of the diamond and sapphire engagement ring affixed to "William's" arm.
Just slip your ring finger through and voila! You're engaged to the man who is second in line to the British throne.
Rubell said the aim of the waxwork was to allow wannabe princesses the opportunity live out a childhood fantasy.
"As I looked at the photo, I noticed that William is standing ... like a solo statue in the photo and Kate comes over and puts her arm in and shows off the ring," the 40-year-old New York-Based Rubell told Reuters.
"And the thought occurred to me, oh it would be fun to be her going in and putting my arm in and putting the ring on. I think it's a feeling that a lot of women have of this fantasy of meeting Prince Charming."
Rubell said fantasy for women was all about security.
"The way a man might fantasise about winning the lottery, women might fantasise about marrying Prince William -- it's a similar fantasy of security," she said.
She believed Americans were drawn to the drama of the British royal family because they had no equivalent of their own.
"I think Americans get all the fun of royalty with none of the burden," she said. "For us, it's just like they're celebrities: they're celebrities who have a fun job and we can think about them in that way and they can occupy the space that we need them to occupy."
William's waxwork will be on show at the "Engagement" exhibition at the Stephen Friedman Gallery in London until March 5.
Follow Emirates 24|7 on Google News.