Overweight Malaysian cops feel the burn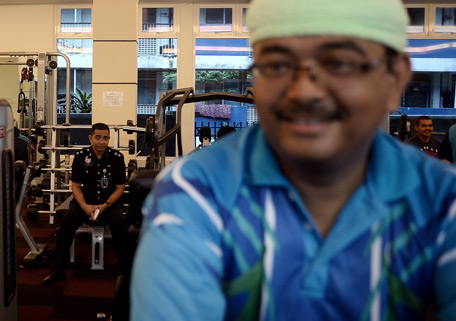 Huffing and puffing, sweat-soaked Malaysian police officer Mohamad Ra'ayim Jemahir strains in hot pursuit of an elusive quarry: a fit physique.
Panting on an exercise bike, the 102-kilogramme (224-pound) Ra'ayim is among thousands of overweight Malaysian officers who have been ordered to slim down amid concern that fast-expanding waistlines could limit their crime-fighting abilities.
The Royal Malaysian Police says about 11,000 of its 122,000 officers - nearly 10 percent - are overweight, causing rising health-related absenteeism and costing millions of dollars in lost productivity.
Top brass warned last month that cops could miss out on future promotions if they fail to shape up, and are now piloting a special weight-loss and fitness programme.
Ra'ayim largely blames his weight woes on habitual consumption of Malaysia's tasty but often fattening cuisine during the typically long stretches of inaction common in policing.
"Before, I took food without knowledge - I'd eat when I see food. So now, I eat when I need (to)," said Ra'ayim, 40, who wore a white sweatband and hopes to shed 16 kilos.
The stereotype of the donut-gulping, coffee-quaffing cop, belly straining at his gun belt, is hardly unique to Malaysia. But the problem has reached worrying proportions in the Southeast Asian country.
Zulkifli Abdullah, the police force's director of management, said growing numbers of officers suffer from diabetes, high blood pressure and other illnesses associated with excess weight and fattening food, and that an average of 560 officers call in sick daily.
"In 2015, we had about 200 officers who died due to various illness like heart attacks and diabetes," Zulkifli said, adding that the number was rising.
Survival of the fittest
The issue is symptomatic of a larger national obesity problem, with recent studies indicating nearly half of Malaysians are overweight, ironically due to decades of successful economic development that has largely defeated hunger and led to more sedentary modern lifestyles.
Compounding the issue is Malaysia's love for a lip-smacking national cuisine marked by carb-heavy rice dishes, oily noodles, fried chicken, sugary drinks, and rich curries made with fattening coconut milk.
National police chief Khalid Abu Bakar said in January that new promotions will henceforth be subject to mandatory fitness tests.
So Zulkifli last month launched a voluntary programme at the main police headquarters in Kuala Lumpur to whip overweight cops into shape.
It now has three dozen officers who go through daily workouts and must observe diets limiting them to 2,000 calories per day. Basic goals include a 10 percent weight loss over six months.
During a recent session, officers gamely pushed themselves on stationary bikes and treadmills before circling around an instructor for stretching and other exercises.
At 111 kilogrammes, officer Suresh Mariah, 28, struggled with knee bends and jumping exercises.
He said his weight ballooned after he was hobbled by a knee ligament tear a few years ago, but also sheepishly admits an addiction to Malaysia's national dish, nasi lemak - rice cooked with coconut milk and served with a fried egg, fried anchovies and roasted peanuts.
Planning to wed in March, he eventually wants to shed 20 kilos.
"I am ashamed of my weight," he said, adding that his current poor condition "shocked" his family and friends.
Image problems
Although now only available at Kuala Lumpur headquarters, Zulkifli hopes to expand the programme to officers nationwide.
Overweight police add to the PR woes of what is already one of the country's least-respected institutions.
Police corruption is believed to be widespread, and Malaysia's longtime governing coalition is routinely accused of using the force to harass its political opponents.
A shocking history of police detainees dying under suspicious circumstances while in custody hasn't helped.
Zulkifli blamed the weight problems on slack "discipline" among officers and said the fat-busting drive was vital to maintaining the institution's public image and basic effectiveness.
"Police officers must be presentable," he said.
"We need to run and make arrests. I don't think an obese officer can be as productive as a trim and fit officer."
Fitness program participant Zauyah Abdul Rahman, 37, has switched to an oatmeal-intensive diet and cut consumption of coffee and fattening foods.
She dreams of dropping 10 kilos - she is now at 86 - so she can look good in her uniform.
"Also, I want to be promoted to sergeant," she said.
Follow Emirates 24|7 on Google News.