Perilous past of 17th century Londoners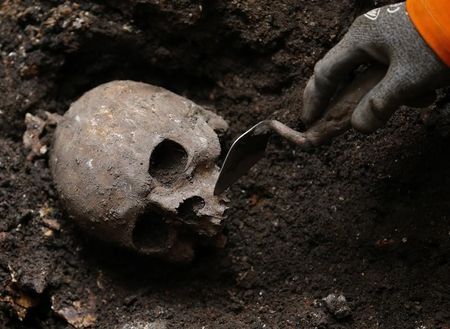 Londoners in the 17th century were never far from danger as plague, infant mortality and angry mobs menaced the capital, burial records dug up by the Crossrail construction project showed on Monday.

Crossrail, a $23 billion railway link connecting east and west London due to open in 2018, is conducting a marathon digging operation for the 42 km of new tunnels under the British capital.

Sixteen volunteers working with Crossrail did a different sort of digging, combing through parish records to provide the names of more than 3,000 people at the Bedlam Burial Ground under Liverpool Street Station.

The majority of those identified were buried between 1570 and 1729, a period which included the English civil war of 1642-51, the Great Plague of 1665, and the Great Fire of London of 1666.

"This research is a window into one of the most turbulent periods of London's past," Jay Carver, Crossrail's lead archaeologist, said in a statement.

Among those identified was Nicholas Ambrose, a mayor of London buried in 1575, and John Lamb, an astrologer with noble clients who was stoned to death by an angry mob in 1628 after allegations of rape and black magic.

But most of those buried at Bedlam were London's poor, and the records paint a picture of a fragile existence where disease and infant mortality were never far away.

One man, John Smith, buried three of his children within a month in 1574, and made his own final trip to Bedlam four years later.

Hundreds more of the people identified had fallen victim to the plague or other epidemics such as small pox and tuberculosis.

The burial ground took its name from the nearby Bethlehem Hospital for the mentally ill whose name was commonly shortened to Bedlam.

The ground did not keep its own records, so the volunteers searched the records of over 100 parish churches in central London which sent their members to Bedlam to be buried.

Crossrail will begin excavating the ground next month, and will submit the skeletons to scientific analysis before reburying them in consecrated ground.

The railway, which will link Heathrow Airport and central London to suburbs and satellite towns, is Europe's largest infrastructure project and is now half complete, on budget and on schedule.
Follow Emirates 24|7 on Google News.