Speed Eat: 444 chicken wings in 30 minutes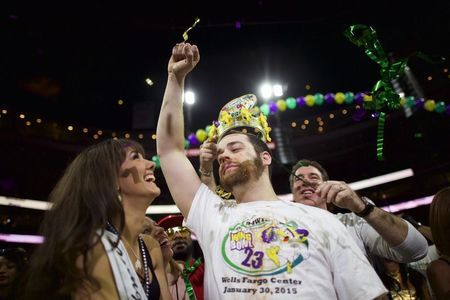 A professional competitive eater from Chicago downed 444 chicken wings in 30 minutes at the 23rd annual Wing Bowl in Philadelphia, narrowly edging out his nearest rival and shattering the record of 363 wings set a year earlier.

"I have the sweats but I feel a lot better because I know I don't have to eat any more chicken wings," the winner, Patrick Bertoletti, said after narrowly beating prior record-holder Molly Schuyler, who gobbled 440 wings in front of a crowd of thousands at the area where the city's National Basketball Association franchise, the 76ers, plays.

Bertoletti ate 50 wings in the last two minutes of the contest, ripping the meat from the bone and stuffing it in his mouth, a technique that left him chewing for more than two minutes after the final buzzer rang.

The new record shocked Angelo Cataldi, the sports talk radio broadcaster who conceived of the contest as a consolation to Philadelphia sports fans, who have seen their Eagles football team make it only twice to the Super Bowl, which they have never won.

"I didn't think it was possible," Cataldi said.

The contest, hosted by Philadelphia sports talk radio station 94 WIP, features entrants with colorful nicknames who are ushered in with immense entourages featuring scantily lad women called "wingettes."

"It's my first year, and it's really fun, but I'm cold," said wingette Amanda Dennis, who wore a bikini top made from electrical tape as she entered the arena riding in a refrigerator with its top cut off, along with another contestant who went by the name, Meat Fridge.
Follow Emirates 24|7 on Google News.