Wildlife safaris in India: Click here for a tour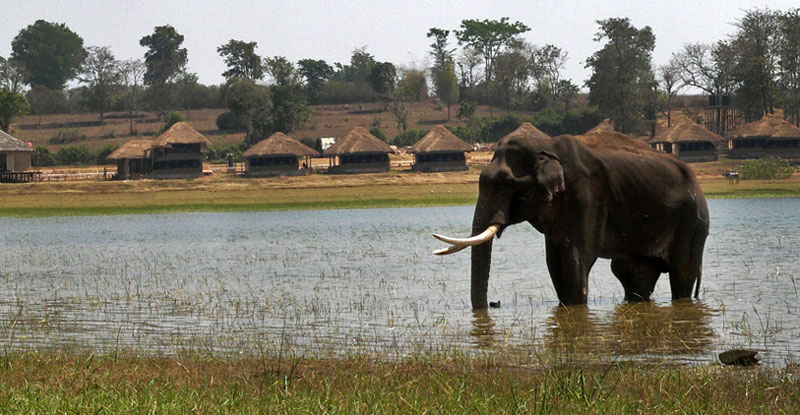 For all city folks, life is all about reminders, schedules, being on the run and an endless race to meet deadlines.

Cut to waking up in a tent at six am amidst sounds of the forest without an alarm, no calendar or schedule to follow, that too without any work related calls.

And what's more the day begins by learning a thing or two about wilderness.

Instead of rushing for a meeting or fighting to reach office on time all one does is learn to differentiate between a hooting animal and warning calls for a big game. Keep an eye out for every little movement in the wild and be on standby to capture your game of the day on camera. All of this without having to look at your watch.

For the longest time, Africa has been a paradise for all wildlife lovers willing to spend time in wilderness.

Back home in India, forest camps and animal spotting is now a growing trend more popular with generation next. While a lot of people might have heard and experienced Game Parks in South Africa, National Parks in Australia, India too isn't far behind when it comes to experiencing wildlife safari.

A five-hour drive from Bengaluru is the scenic Kabini. It might not be the most popular destination to experience wilderness in the country, but it can give serious competition to any national park at home or abroad. Even though spotting a wild cat might be easier in Northern India's National Park due to their bold nature, the dual option of road and water safari at Kabini makes it more unique.

With a choice of four Safari Resorts near Nagarhole National Park, Bison Kabini Resort tops the list due to its location and ambiance. It's the closest you get to experiencing African Safari camp and hence it's the first-of-its-kind in India.

After giving up cricket owing to an illness in 1986, popular Hyderabad opening batsman Saad bin Jung switched to eco-tourism and wildlife conservation.

Jung dedicated 28 years to the wild and in the process started Bushbetta in Bandipur, the angling camp in Cauvery River. The former cricketer then decided to offer Indians a one-of-its- kind wildlife camp experience. Located at the confluence of the Bandipur and Nagarhole National Park, Bison is on the shores of the exotic Kabini river.

"Despite owning the land and starting work at Bison since 1997, it took over eight years for me and Sangeeta to begin a dialogue with local community to recreate trust and help resolve the never ending conflict between local tribals and administrators,'' recalls Jung, while sitting at the deck monitoring migrating birds in the backwaters through his binoculars. "The man- animal conflict was a consequence of larger conflict that has plagued India which is the fight between local men versus the authority," adds Saad.

Running since 2009, The Bison offers accommodation in African style tents with touch of old hunting lodges, rustic interiors, luxury of hot water despite running only on solar power and service that makes you feel at home. Be it the deluxe tents, machan tents, suites and pool, they all offer a stunning view of the Kabini river.

"With a belief of empowering the tribal, we have taken extra care to ensure all our staff is from the village who have been given through training. We also run a school which enables local villagers to educate their children," reveals Sangeeta Saad.

While the Bison has now made its debut in Africa, the Kabini camp is managed by their son Shaaz Jung, who has been tracking leopards for over a decade. With a passion for wildlife photography, Shaaz along with friend Mithun Hunugund are the most sought after naturalists in the region who lead numerous Safari tours for tourists across all resorts in Kabini. "More often than not, their jeep is the only one to spot a big game on a given day in the forest," revealed a frequent visitor at the camp.

"The Park is divided in two Zones- A & B & not more than 11 vehicles are allowed inside every day. Bison offers you a three-hour morning and evening road safari. But the three hour boat safari through the backwaters is an option for people looking for a more relaxed safari experience," said Shaaz Jung as he tells you stories behind each picture that has been put up on the walls of resort's sitting area.

"We can spot tigers as well as leopards and elephants in Nagarhole, but mostly you'll find gaur, wild dogs, bonnet macaques and common langur. The lush forest is more attractive than Bandipur's vegetation, and animal sightings are more common, adds Shaaz.

For individuals who have an appetite for adventure and luxury longing to experience serenity through the day, read a book in the middle of a river on a motor boat, enjoy superlative starry nights with moon light reflecting over Kabini look no further away from India as The Bison Wildlife Resort offers the best wilderness experience in the country and much more straight from the heart.


Follow Emirates 24|7 on Google News.