Pistorius witness relives 'terrifying screams'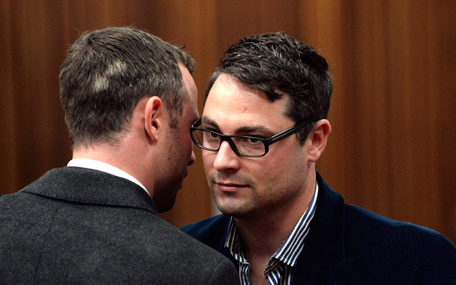 A key witness in Oscar Pistorius's murder trial wept in court on Tuesday, saying she still relives the "terrifying screams" heard from his home the night Reeva Steenkamp was killed.
In vivid testimony that cast doubt on the star sprinter's defence, Michelle Burger, her husband and a third neighbour each told the court they heard a commotion then gunshots on Valentine's Day 2013.
The trio's account directly contradicts Pistorius's claim that he shot the 29-year-old model and law graduate Steenkamp through a locked toilet door after mistaking her for an intruder.
In an emotionally charged second day of the South African Paralympian's trial, Burger broke down in the witness box after fierce cross examination, saying events of that February 14 still haunt her.
"When I'm in the shower, I relive her shouts. The terrifying screams," the university lecturer said, her voice cracking with emotion as she was unable to hold back the tears.
Another neighbour, Estelle van der Merwe, who lives less than 100 metres (feet) away from Pistorius's home, later told the court she heard arguing coming from the house.
"I woke up in the morning at 1:56am to sounds of someone talking loudly and fighting," she told the court. "It lasted about an hour."
Later she recalled waking up to the sound of loud bangs.
Burger's husband, Charl Johnson, also took the stand, telling judge Thokozile Masipa that a woman's screams woke him up and that he ran to his balcony, less than 200 metres from Pistorius's home.
"At that point the fear and intensity of her voice escalated and it was clear that this person's life was in danger," he said.
"That's when the first shots were fired," although Johnson could not recall how many.
Both Johnson and Burger also said they heard a male person shout for help, a point that was seized upon by the defence as evidence Pistorius was calling for help.
- 'She could not have screamed' -
Pistorius, 27, a double amputee known as the "Blade Runner" for his carbon-fibre running blades, has pleaded not guilty to murder and three unrelated gun charges.
While admitting killing Steenkamp, the sprinter described it as a "tragic accident", denying murderous intent and saying "we were in a loving relationship".
If found guilty of premeditated murder, Pistorius faces 25 years in South Africa's notoriously brutal jails and an abrupt end to his glittering sporting career.
In the face of the prosecution's onslaught, Pistorius's lawyer Barry Roux spent most of Tuesday trying to pick apart the witnesses' account of events.
In terse exchanges, he accused Burger of rejecting Pistorius's account out of hand, moulding her testimony to fit media reports and jumping to conclusions.
"You made up your mind that his version could not be," said Roux, claiming Pistorius sounds like a woman when he screams and that the bangs heard were him trying to break down the toilet door with a bat.
"You interpreted cricket bat shots to be gunshots and screaming to be a woman and not Oscar. If you didn't do that, his version would make sense."
Tensions in court were heightened when a statement was read explaining the violent nature of Steenkamp's death.
As Roux claimed a gunshot wound to the head would have made it impossible for Steenkamp to scream, Pistorius bowed his head and folded his hands behind his neck.
"The person with that brain damage will have no cognitive response," continued Roux. "It cannot be. She could not have screamed."
Prosecution lawyer Gerrie Nel interjected to say it was the last of four shots that struck Steenkamp's head, the first three hitting her right side, the wall and her shoulder.
Meanwhile, across the court, one of Steenkamp's relatives touched a photo of the budding reality TV star, as a man put his arm around her.
Proceedings are expected to resume on Wednesday with Charl Johnson retaking the stand and facing cross examination.
The trial is expected to last three weeks.
Follow Emirates 24|7 on Google News.