Abramovich backs under-fire Chelsea manager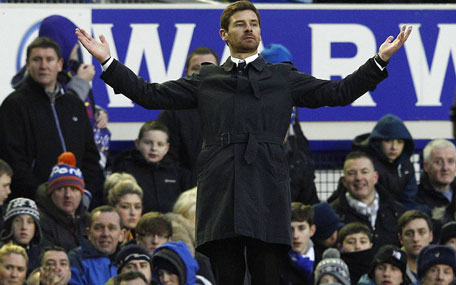 Chelsea's young manager Andres Villas-Boas seems to have lost the plot in his ambition to chart a new course for the Blues after clashing with his players in front of the club's owner Roman Abramovich.
In the process he may have unwittingly opened the door for Real boss Jose Mourinho to return to the Premier League.
The dressing-room exchange took place at the club's training ground on Sunday, after Villas-Boas cancelled a day off following the previous day's defeat at Everton, according to the Daily Mirror.
Abramovich organised a training ground summit to voice his discontent after the Blues slipped out of the Champions League qualification places.
The Russian tycoon blamed the players for the club's slide to fifth in the Premier League and Villas-Boas also grabbed the opportunity to launch a tirade against the players.
But the duo had not reckoned that the indignant senior pros would counter attack.
In a no-holds-barred confrontation, the players voiced concerns about tactics, management methods and team selection in a meeting which turned stormy as both sides put their points across.
Abramovich witnessed the argument and also spoke to the players, leaving them in no doubt that he is still backing the manager despite the setback at Goodison Park, the Mirror reported.
However the owner, who spent virtually every day at the club's training ground last week to get a close look at the team's preparations, is now aware of the players' feelings about the man he appointed last summer.
The Portuguese retains the support of the owner but that will be tested if Chelsea crash out of the FA Cup to Birmingham on Saturday, and lose to Napoli in the last 16 of the Champions League.
However, despite the Russian being far from happy with recent results that have left Chelsea languishing 17 points behind Barclays Premier League leaders Manchester City and outside the top four, the club continue to maintain he is not about to pull the trigger.
Veteran England midfielder Frank Lampard, who is on his seventh manager in his 10-and-a-half years at Stamford Bridge, admitted earlier it was the players who needed to take a look in the mirror after their display at Goodison Park.
"Of course we do, it's a group thing," he told Chelsea TV.
"It was a bad performance from start to finish.
"When you come to Everton, the one thing you know they're going to do is fight you, press you and make things tough and we didn't react to that.
"We created two or three chances and that's not up to standard. We can only take that on the chin and apologise to the people who came up and watched it because that's not good enough for Chelsea."
Abramovich acknowledges the difficulties of revamping an ageing squad.
But Lampard insisted transition was no excuse for the current malaise, warning the club could forget about beating Napoli when the Champions League resumes unless they got their act together.
He said: "We have been fighting to win leagues. Now, we are fighting for fourth and that hurts, so we have to react.
"We know we are in a bad way and we have to dig ourselves out of it.
"Different players do come in but whoever plays has to live up to the standards we have set.
"If we play like we did at Everton against Napoli, we will give ourselves a mountain to climb."
Lampard returned from injury on Saturday but Chelsea have also been missing captain John Terry and striker Didier Drogba of late.
Lampard said: "For me, Chelsea is all about what we are and we have done it for a long time.
"You can't tell me that John Terry at 31, myself at 33 and Didier at 33 are players that can't offer a lot. I believe that completely."
When Abramovich made a similar intervention two years ago, Chelsea went on to win the double.
Although their league title is virtually over, the Blues are well-placed in the FA Cup and are still in the Champions League.
A top-four finish would appear the minimum requirement for Villas-Boas.
However, Abramovich's patience will be tested if Chelsea do not qualify for next season's Champions League.
Luiz Felipe Scolari was fired three years ago when the Russian began to fear a top-four place would not be secured.
Meanwhile, Terry could return to bolster Chelsea's defence for Saturday's FA Cup fifth-round tie with Birmingham after training for half an hour today following a knee injury.
However, left-back Ashley Cole has been diagnosed with a bruised calf after being forced off at Everton and will be monitored ahead of the Birmingham clash.
Follow Emirates 24|7 on Google News.