Alarm bells ring as Man Utd loom for Arsenal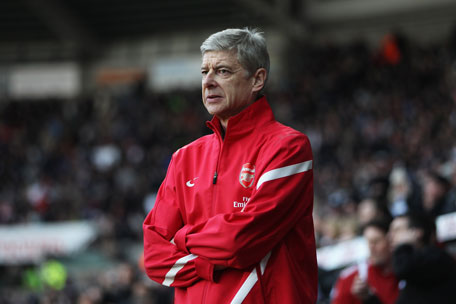 Arsene Wenger could anger Arsenal fans yet again if he fails to act quickly during the January transfer window to plug their leaky defence.
Arsenal have lost three of their last six Premier League games and supporters slammed the players with one involved in a heated exchange with returning hero Thierry Henry following last Sunday's defeat at Swansea.

It has set alarm bells ringing among the Arsenal faithful with a big match looming against champions Manchester United this weekend.
The 8-2 humiliation they suffered early in the season at the hands of the Red Devils must be still fresh in their memories.
Wenger frustrated fans last summer by failing to prevent the departures of Cesc Fabregas and Samir Nasri or replace them with big name signings.
There were even calls for his head after the humiliating start to the season which has once again surfaced after their dismal performances.

Wenger has always been very cautious with the club's money in the past, but when he does spend big it tends to be in the January transfer window.
Players such as Andrey Arshavin and Jose Antonio Reyes have arrived in January in the past, and it's possible that Wenger will invest in a marquee signing again.
Eden Hazard could be the player to make that difference for Arsenal. Wenger missed out the Lille midfielder last summer although signing up Gervinho who has not delivered in front of goal.
Wenger has the money available to bid for Hazard who is also a target of Chelsea.
Goalkeeper Wojciech Szczesny is at a loss to explain Arsenal's poor away form.
Only Queen's Park Rangers and Bolton have been beaten more often on their travels while the 25 goals Arsenal have conceded in 11 away games is the worst defensive record in the division.
"I have no idea why we can't win away from home," Poland goalkeeper Szczesny told the London Evening Standard. "The results speak for themselves and we have been really poor away this season. I really can't explain it.
"We go everywhere and try to do our best but the results don't go our way. We have talked about it and cannot come up with an answer. We need to sort it out.
"We can't take many positives out of it because we lost the game and we are disappointed about it.
"Credit to Swansea - I thought they were fantastic all over the park. I am very disappointed and I don't really know what to say about it."
Arsenal are also struggling to keep good possession in midfield and put their opponents under real pressure.
Wenger told the club's official website: "That's now twice - at Swansea and at Fulham - where we have given the game away.

"At our level that is frustrating and not good enough.

"It is down to a lack of composure and the right decision-making. It is alarming because at Fulham we were 1-0 up and we lost the game. Today we came back to 2-2 and straight away we gave the third goal away. It is really a concern.

"It is a massive opportunity (next Sunday) because you feel we have given six points away in the last two games in a way that is unbelievable. It is time for us to wake up and be focused - we have a good opportunity to do that against Manchester United."
The fifth-placed Gunners have seen all their four full-backs hit by injury. But rather than bring in new blood, Wenger is hoping Santos and Kieran Gibbs will make swift comebacks.
With Scott Dann being the next high-profile defender demanding to leave Blackburn following Chris Samba's transfer request, Wenger should make his move.
Perhaps the only thing that might change Wenger's mind is another disastrous result against United at the Emirates on Sunday.

Follow Emirates 24|7 on Google News.