Ancelotti mulls PSG shopping list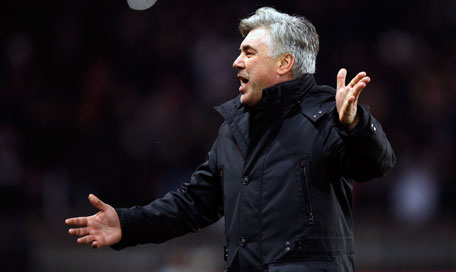 Paris Saint Germain coach Carlo Ancelotti has an extensive shopping list as he looks to make his new club a feared name in Europe, with Carlos Tevez and Fernando Torres in his thoughts as well as the likes of Pato and Kaka, La Gazzetta dello Sport reported on Tuesday.
Real Madrid's Kaka and AC Milan's Pato are well-known targets for the Italian, but he says agents have bandied around plenty more names.
"Since I joined PSG (last month) I have had about a hundred calls from agents proposing some absolutely unthinkable players!
"They all want to come here; the money is there, it's Paris, there is a coach with a good reputation...," the Gazzetta reported Ancelotti as saying.
"Names? Well, Tevez, Torres, (Manchester United's Dimitar) Berbatov, (Tottenham's Roman) Pavlyuchenko, (Napoli's Edinson) Cavani, (Bilbao's Fernando) Llorente.
"Kaka could be free in June," former Milan and Chelsea coach Ancelotti went on.
"Pato? That's a strange story - we don't know. We'll see. For January that one's no longer a topic. In June ..." he mused, having tried and been turned down in the current transfer window.
"With agents we could revamp the team week after week. I don't like that," Ancelotti conceded amid all the speculation which accompanies the mid-season window.
Admitting he fancies adding to his striking contingent Ancelotti said "Pippo (Inzaghi), I'd take him, his only drawback is his age" of 38.
Regarding the squad he currently has and which lies three points clear of the pack after Ancelotti marked his league start with a weekend success over Toulouse, the Italian said: "I have found a very good group - (Javier) Pastore, (Jeremy) Menez, Nene are the best known but (Mathieu) Bodmer is a very good midfielder. (Salvatore) Sirigu is a good keeper and (Mamadou) Sakho has enormous potential."
But Ancelotti said the situation was very different for him compared with his arrival at Chelsea, whose players were already used to success whereas PSG have been in the doldrums since their last league title 18 years ago.
"When I arrived at Chelsea players already had their medals. There were the likes of (John) Terry, (Frank) Lampard, (Didier) Drogba and they had worked with high-level coaches such as (Jose) Mourinho.
"PSG players do not have that past so the things I have won (Champions Leagues as both player and coach) weigh heavier," he suggested.
But Ancelotti also said he felt for predecessor Antoine Kombouare, sacked despite the club leading the league.
"That was a bit of an anomaly as he left me a team on top of the heap. So if I don't win the title that will look bad, no point in denying it."

Follow Emirates 24|7 on Google News.