Argentine Crespo tops India auction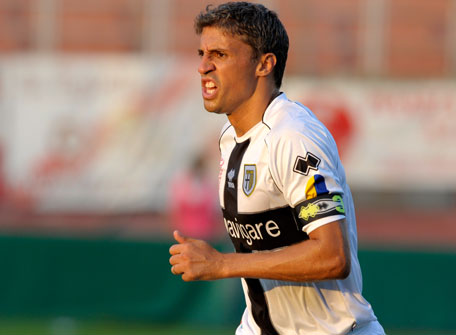 Argentine legend Hernan Crespo emerged the star attraction among a host of semi-retired world stars auctioned in Kolkata on Monday to play in a new football tournament in India.
Crespo was picked up for an annual salary of $840,000 by the Barasat franchise to play alongside district-level players over seven weeks in the proposed Premier League Soccer (PLS).
Italy's World Cup-winning captain Fabio Cannavaro went for $830,000 to Siliguri, Robert Pires of France fetched $800,000 from Howrah, Nigerian Jay Jay Okocha got $550,000 from Durgapur and Robbie Fowler of England was sold to Kolkata for $530,000.
Former Argentina captain Juan Pablo Sorin, the sixth 'icon' player, was not named in the list of auctioned players released by the promoters Celebrity Management Group (CMG).
The tournament, the brainchild of football officials in the eastern state of West Bengal, is a franchise-based event on the lines of cricket's popular Indian Premier League.
Organisers said the dates of the tournament will be announced early next month, although they had earlier pencilled in a possible February 25 start.
The five city franchises will play each other twice on a home-and-away basis with the top four qualifying for the semi-finals.
The tournament is an attempt to fuel growing interest in football in cricket-mad India, which is ranked a lowly 158th in the world.
Each of the franchises will be coached by well-known names, who were also auctioned on Monday.
Portugese coach Fernando Couto was sold to Howrah for $240,000, former Manchester City manager Peter Reid went for $200,000 to Kolkata, while Bolivian Marco Etcheverry was picked up by Siliguri for $200,000.
Nigerian coach Samson Siasia fetched $210,000 from Durgapur, the same amount Teitur Thordarson of Iceland got from Barasat.
Among the top buys outside the 'icon' players' list were Robert Egbeta of Nigeria for $350,000, and Alonso Solis of Costa Rica and Christian Lara of Ecuador for $200,000 each.
"This is an exciting time for Indian football," Goswami told AFP. "These legends will make the sport even more popular in the country.
"Television coverage will ensure this tournament will attract viewers across India. Details are being worked out."
Football has a huge following in West Bengal, where the state capital Kolkata hosted a friendly between Argentina and Venezuela in September.
But doubts remain over the PLS, which has struggled to publicise the event properly and may fail to attract interest in games played at small provincial grounds.
The PLS has already been dented by the refusal of the All-India Football Federation (AIFF) to allow Indian players from the domestic I-League to join.
"The PLS is meant to help popularise football at the district level and unearth fresh talent," AIFF secretary Kushal Das told www.goal.com.
But Das said he had doubts over the tournament.
"I personally do not believe such ventures without any I-League players and having a few retired World Cuppers as marquee players would be commercially viable in the long run," he said.
Players auctioned for new India event
'Icon' players
Hernan Crespo (Argentina) $840,000 - Barasat
Fabio Cannavaro (Italy) $830,000 - Siliguri
Robert Pires (France) $800,000 - Howrah
Jay Jay Okocha (Nigeria) $550,000 - Durgapur
Robbie Fowler (England) $530,000 - Kolkata
Top seven international players
Robert Egbeta (Nigeria) $350,000 - Kolkata
Alonso Solis (Costa Rica) $200,000 - Durgapur
Christian Lara (Ecuador) $200,000 - Barasat
Jose Gabriel (Bolivia) $180,000 - Howrah
Santino Quaranta (USA) $180,000 - Siliguri
Limberg Gutierrez (Bolivia) $180,000 - Siliguri
Joaquin Botero (Bolivia) $180,000 - Barasat
Coaches
Fernando Couto (Portugal) $240,000 - Howrah
Samson Siasia (Nigeria) $210,000 - Durgapur
Teitur Thordarson (Iceland) $200,000 - Barasat
Peter Reid (England) $200,000 - Kolkata
Marco Etcheverry (Bolivia) $200,000 - Siliguri

Follow Emirates 24|7 on Google News.