Arsenal are better than Liverpool, says Wenger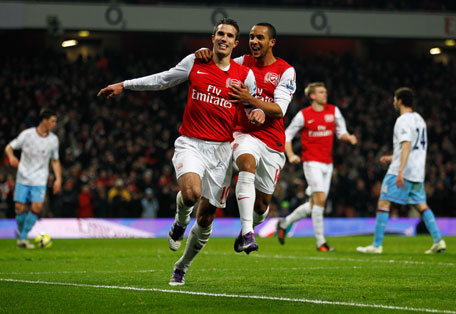 Arsene Wenger has attempted to raise the spirits of frustrated Arsenal fans by telling them they at least better than Liverpool.
The Frenchman has earned the wrath of fans after they slumped to seventh in the table following a dismal run of four games without a win.
Arsenal have gone eight years without winning the Premier League and six years with no silverware at all.

But Wenger countered by taunting rivals Liverpool, who have not lifted the title since 1990, The Sun reported.

"We are in January and it can happen that we are seventh. But we are in a competition with Liverpool, who have not won the league for 22 years," he said.

Addressing concerns of fans who are planning a protest when they face Blackburn on Saturday, Wenger said: "You have always to be humble and fight hard and support your team.
"I believe that we have played some great football this season and we have to focus on that. Football is a happy moment where people come together to watch the team they love.

"I am here to make all of the fans happy and when I do not manage to do it I am, of course, not happy.

"What is most important is that we have our fans happy at the end of the season."
He believes the squad is strong despite not dipping into the January transfer window.

He said: "I know it is always a depressed job to judge the immediate situation, but we have a longer target — to go until May with a determined attitude with belief.

"Overall I feel this team is strong mentally. We are ready for a fight and that is the most important thing."

Wenger reminded fans they are still in the running for the Champions League this season although they are in danger of qualifying next time, being five points adrift of fourth-placed Chelsea and 12 behind Tottenham.
He said: "It is a worry because nobody guarantees you will be in the Champions League.

"Nobody has been in it more than us. We have played 15 years on the trot in the Champions League and we play AC Milan in the last 16 in 10 days' time.

"My wish is that the next 16 years will be exactly the same for the club and the fans will be happy."

Wenger also blasted the Emirates boo-boys who have targeted Andrey Arshavin.
The Russian skipper was linked with moves back home to Anzhi Makhachkala or Zenit St Petersburg this week.

But Wenger said: "I understand everybody's frustrations, but there is a difference between frustration and lack of respect.

"Things can change quickly — villain today, hero tomorrow. And when you are a good football player like he is you can always come back."

Follow Emirates 24|7 on Google News.