Arsenal boss hits out at ref after shock loss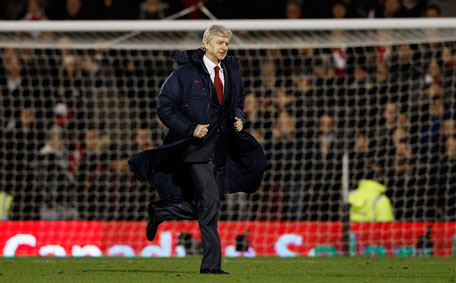 Gunners' boss Arsene Wenger claimed their shock loss to Fulham was because of the referee wrongly sending off Johan Djourou 12 minutes from time before Bobby Zamora's goal in the third minute of stoppage time sent them crashing to defeat.
Wenger claimed Djourou should not have been sent off and that Arsenal should have had a penalty in the first half when Gervinho was tripped in the box.
"We went down to 10 men but in my opinion it was a foul for us on the second yellow for Djourou," Wenger said.
"We should have had a penalty in the first half, but it was difficult after we went down to 10 men. I also thought the referee got it wrong on the first yellow card for Djourou. He got it all wrong."
Fulham manager Martin Jol, who enjoyed his first Premier League victory over Arsene Wenger's side in nine attempts, told Sky Sports: "It was amazing. It's a big compliment to all the players because in the second half they were on the front foot and to get the equaliser was a big boost.
"We played very well in the second half after they outplayed us for the first 20 or 25 minutes."
However, Jol's adversary from the Dutchman's days of managing Arsenal's arch-rivals Spurs was far from happy.
Arsene Wenger blamed referee Lee Probert following Arsenal's dramatic 2-1 defeat at Fulham and claimed his team have been unfairly denied penalties in four of their last five Premier League games.
The Frenchman believed his side should have been awarded spot-kicks against Manchester City, Aston Villa, QPR, and then early in the loss at Craven Cottage on Monday when Gervinho appeared to be caught by former Gunners defender Philippe Senderos.
Arsenal took the lead through Laurent Koscielny but were forced to play the closing stages with 10 men after Johan Djourou's dismissal, with Fulham taking advantage through goals from Steve Sidwell, a former Gunners midfielder, and Bobby Zamora in the final five minutes.
"The referee influenced the game completely the wrong way in my opinion," said Wenger after a defeat which, combined with Chelsea's 2-1 win at Wolves also on Monday, dropped his side into fifth place in the table.
"We cannot influence that," added Wenger, whose remarks about Probert could land him in disciplinary trouble with the Football Association.
"We had a good first half. In the second half, we were more tired and in the last 10 minutes we lost the game because we were down to 10 men."
Arsenal could have secured the points well before the late drama if Probert had awarded a penalty for Senderos's trip on Gervinho in the 13th minute.
"I am surprised," Wenger said. "You want the right decision."
He added: "We had a penalty in the last game (against QPR), a clear handball. We had a penalty at Man City, we had a penalty at Villa Park.
"You should not ask me. I don't know."
Swiss defender Djourou's first booking was for a slide on Mousa Dembele and his second, which led to an automatic dismissal, came when he fouled Zamora.
"The first yellow card was not a yellow card, the second yellow card was a foul for us," Wenger said.
"It was 100 per cent a penalty for us in the first-half.
"It was bad for us, the fact we didn't take our chances in the first-half and it made the difference," added Wenger in a rare admission Arsenal had contributed to their defeat before saying Fulham had conspired to get Djourou dismissed.
"When Djourou got the first yellow, every time they went down to get him the second yellow and he did nothing at all.
"I saw it coming because when (Karim) Frei came on, the game was all (about) look for the second yellow card for Djourou and in the end, he got it."
Djourou's suspension gives Wenger another headache as Bacary Sagna, Carl Jenkinson, Kieran Gibbs, Andre Santos and Thomas Vermaelen are all injured, leaving Arsenal short of full-backs.
"He has done well, we are short, we have lost three left-backs and two right-backs. What can you do? You cannot buy 10 full-backs," Wenger said.
Zamora's goal came after he'd struggled with injuries and amidst reports of a decline in his relationship with Fulham manager Martin Jol.
But Jol said: "He was injured. He had problems with his Achilles and ankle."
And Zamora played down talk of a rift, saying: "A lot of it has been blown well out of proportion. I'm looking forward to playing, doing well and hopefully scoring a few goals."
On whether he will stay at the club, the England striker added: "I think so, I have a few years on my contract yet."
Follow Emirates 24|7 on Google News.