Arsenal fans no longer trust Wenger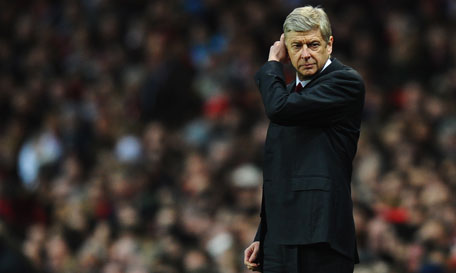 In Arsene We Trust. No longer. At least Arsenal fans feel Wenger is not always right. Not after the 73rd minute substitution the Frenchman made that had even his captain Robin van Persie mouthing his disbelief.
Alex Oxlade-Chamberlain had just set up Van Persie's equaliser and the Gunners were poised for a stirring comeback against champions Manchester United.
Yet Wenger's decision to replace Oxlade‑Chamerlain's youthful cut and thrust with the slumbering Andrey Arshavin, a player Arsenal fans love to hate, brought jeers and derision in virtually all corners.
It was vindicated when Arshavin showed his defensive frailities by allowing opening goalscorer Antonio Valencia into the box to set up Danny Welbeck for United's second, sealing a 2-1 win for the visitors.
Wenger hurled his water bottle down in disgust but behind him in the stands, there were vociferous shows of dissent.
Perhaps for the first time in his 15 years in charge, his authority was being questioned by fans who have stood by him despite the 8-2 mauling handed by United at the beginning of the season.
They have endured the frustration of seeing an end to their six-year trophy drought despite being in the hunt for a quadruple last term.
They have even trusted in his vision to bring in young players instead of big names to fill the boots of Cesc Fabregas and Samir Nasri.
The Frenchman seems to look every bit his age and feeling the strain of resurrecting Arsenal from the abyss as he was seen holding his head when Van Persie missed a chance in front of goal before he got the equaliser eventually.
But the ultimate insult for Wenger was when home fans at the Emirates vociferously questioned his decision to bring Arshavin with some supporters applauding him sarcastically at the end and taunting him to spend some money.
He refused to dwell on the sub blunder but admits the change was costly.

"When it was 1-1 it looked like we would win but in the end one tactical mistake lost us the game," he told Sky Sports.

"I do not want to dwell too much on that now but one second of inattention can cost you."

Despite his admission, Wenger went on to defend his decision to bring off Oxlade-Chamberlain in a frosty post-match press conference.

"I can understand that the fans are upset about the substitution, especially when it doesn't work, but he (Oxlade-Chamberlain) had started to fatigue," he said.

"He was sick in the week. Arshavin is captain of the Russia national team.

"You have an 18-year-old kid making his first Premier League start and a player who's captain of his country and they are querying the substitution? Let's be serious.

"I've been a manager for 30 years and have made 50,000 substitutions. I do not have to justify every decision I make to you (the Press). I stand up for it."

The Frenchman concedes the result leaves his team in real danger of not making the top four this season, adding: "It leaves us in a very difficult position. It's a game we couldn't afford to lose."

Wenger thought his players took too long to hit their stride but was pleased with their display in the second half, despite the result.

"Overall I would say we had a great second half," he added. "We had a difficult first half where we were a bit nervous.

"In the second half I thought we had chances to win the game. We made a defensive mistake on the second goal but overall we had a great second half. We created chances, we were a bit unlucky.

"You could see we played under pressure today and it took us 45 minutes to get into the game. In the second half when we played with more freedom we were very dangerous."
Follow Emirates 24|7 on Google News.