Arsenal fans urged to be patient with Wenger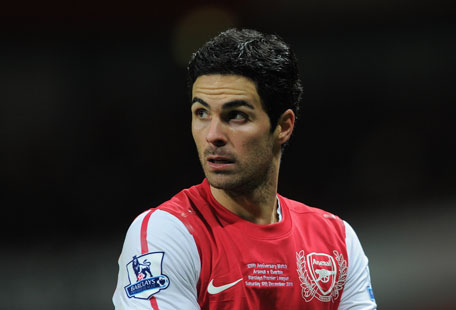 Arsene Wenger seems to be reviled by Arsenal own fans who are growing increasingly impatient after six trophy-less years, with Real Madrid beckoning and his exit from Emirates imminent at the end of the season.
Even former Arsenal boss George Graham who calls Wenger the club's greatest manager of all time is questioning his philosophy.
Graham said: "Dennis Bergkamp, Robert Pires, Patrick Vieira, Marc Overmars, Freddie Ljungberg – if you don't replace these players with similar ability you are going to slide down the league.
"I hope that doesn't happen because Arsene has been fantastic for Arsenal and English football."
But the Frenchman dubbed 'The Professor' is still held in high esteem by his players who are shocked at the very thought of life without Wenger at Arsenal.
Among them is former Everton star Mikel Arteta who is set to return from injury to face Aston Villa in the FA Cup at the Emirates on Sunday.
It is going on for seven years since the Gunners last won a trophy but Arteta has pleaded for fans to be patient with Arsenal boss Arsene Wenger assuring them that the 62-year-old will get it right.
Arteta was also shocked to hear some supporters turn on Wenger last weekend during the 2-1 Premier League defeat to Manchester United.
Although fifth-placed Gunners are in danger of missing out for the first time from the Champions League, Arteta insists their spirit is far from broken.
"Wenger is a master psychologist and always tells us the key points to improve our level," said Arteta after working with Wenger for just five months.
"Defeats will certainly damage any team, but our morale is not broken and we know we can improve," added Arteta who is confident the boss can get the best out his players between now and May.
"Wenger is very important to Arsenal – I have seen that since my first day at the club, and the players are very united with the boss. I understand that the fans were shouting and have been unhappy with results, but I would ask for patience and for them to continue with their support. For the players and the club, that is key."
Arteta is itching to play in the FA Cup, declaring himself fit for selection after missing the last two games through injury, according to the Sunday People.
The FA Cup has not been kind to the 29-year-old Spaniard who missed Everton's 2009 final defeat by Chelsea because of a knee injury.
Arteta said: "The FA Cup is a big trophy and our challenge is to reach the final.
"Now we are only focused on Aston Villa, but I certainly dream of playing the final at Wembley.
"With Everton I had more negative experiences than positive in the FA Cup but I remember my first match in the competition. The atmosphere was magnificent and that day confirmed for me that the Cup is always special.
"Villa have an excellent squad. They are very dangerous and we know it won't be an easy match.
"I am ambitious – I want the FA Cup and Champions League.
"It is not easy to adapt to another team quickly.
"But I'm very demanding and Arsenal fans have not seen the real Mikel Arteta yet."
Follow Emirates 24|7 on Google News.