Arsenal fans urged to rally behind team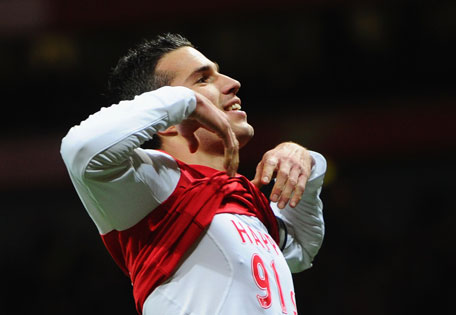 Former Arsenal legend Ian Wright has urged fans to end the negativity surrounding the club and throw their support behind the team as they face a major struggle to make the Champions League next season.
"Arsenal are on a bad run in the league and it certainly isn't good enough. But as they have already proved this season, they are just as likely to go on a really good run and still have a major chance in the FA Cup — Sunday's home game with Aston Villa is massive," he said writing in a column in The Sun.

Whilst understanding the concerns of frustrated Gunners faithful who have waited six seasons without a trophy, Wright felt it has not been all doom and gloom thus far.
He said: "It is maybe understandable that over time, Arsenal fans — like United and Chelsea ones — have got used to finishing in the top four.

"I still feel Chelsea could be caught. However, there is a realisation among the fans that their side could face some trips to random towns on the continent in next season's Europa League."
He also reminded them that unlike Manchester United and Manchester City, Arsenal are still battling in the Champions League with a huge tie coming up against AC Milan.
Despite calling for a major improvements following their latest setbacks, he agreed with manager Arsene Wenger's philosophy of not rushing into panic buying during the January transfer window.
He said: "I know some people are tearing their hair out after Wenger hinted he is unlikely to spend in the transfer window. But even though the team needs strengthening — that's clear for anyone to see — rushing out next week and making some rash signing would not be the answer.

"This happened on August 31 last year and I'm not sure whether Arsenal really benefited.

"Mikel Arteta has done OK — while the jury is out on Per Mertesacker and Yossi Benayoun has not really been given a chance.

"So I wouldn't say they have all been amazing successes. Arsenal have been hit badly by injuries and having four full-backs crocked is crazy.

"But Jack Wilshere is coming back, among others, while I like the central defensive partnership of Thomas Vermaelen and Laurent Koscielny, who is turning into a Nemanja Vidic-type player at the back."
He was not surprised by Arsenal fans venting their anger against Wenger for his decision to replace the excellent Alex Oxlade-Chamberlain with Andrey Arshavin during their 2-1 loss against United.

"The intensity of the jeering may have been a surprise to some but this was the straw that broke the camel's back," he noted.
"Defeats to Fulham and Swansea were bad enough yet against United, here was a young kid with bags of talent having a great game getting taken off. The fact United ended up winning — with fingers pointing at Arshavin for the goal — made matters worse.

"Wenger had his reasons for replacing Oxlade-Chamberlain but you have to look at the wider issue and that Arsenal now face a major struggle to make the Champions League."

The fact that Spurs are still 10 points ahead of Arsenal proves Wenger needs to make some major improvements while there are maybe a couple of players who need to be moved on, he said.
But he hoped the mutiny against the Gunners boss would be a thing of the past.
He said: "The jeering was a case of the locals making a big point to their manager.

"These actions were totally understandable and sometimes it's not a bad thing for fans to voice their disapproval providing it's a one-off.

"But it's important for the negativity to end right now. And I'm confident Arsenal's fans will get behind the team and not turn on Wenger."

Follow Emirates 24|7 on Google News.