Arsenal gunning for Championship starlet Dunk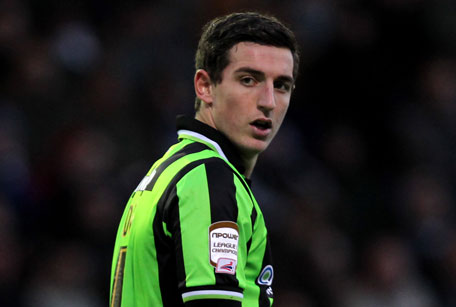 Arsene Wenger is considering plugging Arsenal's frail defence by signing Brighton central defender Lewis Dunk.
The 20 year-old is contracted to Brighton & Hove Albion until the summer of 2013.
Following an emphatic start to his Championship career, Dunk has attracted the attention of Premier League trio Fulham, Aston Villa and Manchester City, with Arsenal the latest to join the queue.
Wenger is hoping to tempt him into enticing the Championship starlet as he looks to solve some defensive inconsistencies.
The 6ft 4inch centre-back is now expected to be involved in a heap of January transfer speculation, sparking a bidding war between the clubs.
The Gunners have been unfortunate with injuries this season and have found themselves short at the back because of it.
Their latest setback came against Manchester United after conceding a soft goal when they had got an equaliser.
Despite the summer signings of Per Mertesacker and Andre Santos, the club have been forced to start players out of their natural positions.
Kieran Gibbs continues to spend time on the injury table and Andre Santos' three-month absence has meant that Thomas Vermaelen has been filling in at left-back.
Wenger has been able to use the likes Mertesacker, Lorient Koscielny, Ignasi Miquel and Johan Djourou in the centre of defence, but the quartet still look vulnerable at times.
Dunk has played a key part in Brighton's impressive start to the campaign, making the AMEX Stadium somewhat of a fortress for periods.
The youngster currently finds himself embroiled in a sexual assault charge, but should the results of the hearing come out in his favour, the starlet may be available for a move.
Dunk recently made his debut for the England Under-21 side and is being tipped by many as competition for a future place in the England squad.
If the Gunners decide it would be prudent to purchase another up and coming player as they have done so often in the past, his signature would be expected to cost around £2m but Gus Poyet may prove a hard guardian in the sale of his stalwart.
Dunk now has 13 appearances under his belt starring for Albion, and may jump at the chance to play for a Premier League side.

Follow Emirates 24|7 on Google News.