Arsenal skipper denies rift with Wenger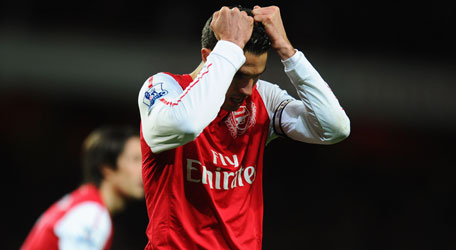 Arsenal captain Robin van Persie insists there is no rift between he and Arsene Wenger over the controversial substitution of Alex Oxlade-Chamberlain for Andrei Arshavin in the 2-1 loss to Manchester United on Sunday.
Van Persie was seen to show his disappointment at the second-half switch when TV cameras caught the striker in what appeared to be a display of dissent.
Home fans also vented their anger by jeering Arshavin who was responsible for allowing Danny Welbeck to score the winner with some sloppy defending.
However, the Dutchman has clarified his reaction, stating he was not aware Oxlade-Chamberlain had picked up a calf injury.
"I was not having a go at the boss on Sunday - I was just sad to see Alex leave the pitch as he just gave the assist for our only goal," Van Persie told The Sun.
"I was not questioning his judgement - I know it's not my place to challenge what Arsene Wenger does. He is the boss, he makes the decisions and that's it.
"I have worked with the boss long enough to know there's always a good reason behind his decisions - and there was again on Sunday. When Arsene makes a decision, it is based on a lot of information that everyone else might not know about and he will never betray.
"Alex Oxlade-Chamberlain had a calf injury. We did not know that but the boss did and brought Andrey Arshavin on.
"I have a lot of respect and admiration for Arsene Wenger. He is one of the best football coaches in the world, with a brilliant record of success here at Arsenal. I wouldn't be here or the player I am without him.
"The manager and I are fine and my relationship with the club is good. I don't want anyone misunderstanding the situation here for a moment. There is no problem, there is no conflict and there is no controversy. The boss knows that, I know that, the players all know that. But it's important the Arsenal fans know that and that people in the game know that.
Arsenal sit in fifth position on the Premier League table, five points adrift of fourth-placed Chelsea, and van Persie believes the Gunners still have time to turn the season into a success.
"We are all committed to doing the very best we can to bring success to The Emirates. We are not giving up on a top-four finish, no way.
"Losing to Manchester United was a setback - but it is not a knockout blow. The way this season is going I think it's pretty safe to say there will be a lot more surprises before the Premier League season is over.
"There's plenty of games still left, we have recovered from reverses like this before and we will win again. So anybody writing us off is making a mistake. This could still be a good season for us.
"We have the FA Cup to look forward to and the Champions League. We will all be giving 100 per cent to make sure we bring one of those trophies home, hopefully both of them," he said.

Follow Emirates 24|7 on Google News.