Arsenal stars still believe in Wenger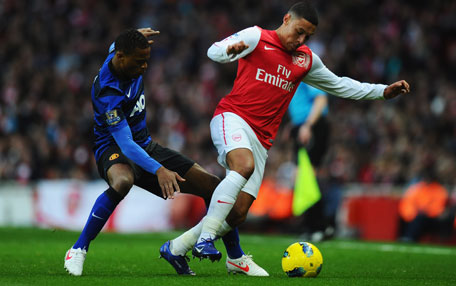 Alex Oxlade-Chamberlain says that he respected Arsene Wenger's controversial decision to substitute him in Sunday's 2-1 home defeat to Manchester United.
The 18-year-old making his first Premier League start gave a standout performance but much to the dismay of Arsenal was hauled away by Wenger just minutes after he had assisted skipper Robin van Persie in getting the equaliser.
Wenger cut a forlorn figure after he replaced the impressive Oxlade-Chamberlain with Andrey Arshavin in the 73rd minute with the score at 1-1.
Fans exploded in a cacophony of disapproval which grew louder when Wenger's decision backfired spectacularly as Arshavin lost Antonio Valencia, who set up Danny Welbeck for United's winner.

Even Robin van Persie mouthed his shock at the substitution though he was unaware that the teenager had a calf strain.
"It was hard not to hear it (the jeers for Wenger), there were a lot of fans," Oxlade-Chamberlain said. "It is always nice to know that the fans enjoyed your performance or whatever but at the end of the day, it's the boss's decision. He's Arsène Wenger, a top-quality manager. He's done a lot for this club so whatever he does and whatever decision he makes towards me and the team, I'll have to respect and I do respect that.
"The fans pay to come and watch us so they have the right to have their own opinions and to show their frustration but all we can guarantee is that we're working very hard and we're completely focused on the task in hand. We'll do all we can to try to put it right."
Goal stopper Wojciech Szczesny also suggested it was ridiculous for the Arsenal manager to have his position called into question.
The club's dressing room remains behind Wenger and there is the belief that they can still finish the season in a Champions League place.
Sunday's defeat, their third in succession in the Premier League, left Arsenal fifth, five points behind fourth-placed Chelsea.
Szczesny said: "No one will ever forget what the boss has done for this club. He's still doing a fantastic job and that's not a question, really, his position at this club. I don't think his position at this club should ever be questioned. We've been here before (in a difficult situation) and we've reacted very well. We'll do the same thing again and make sure that this club goes in the right direction and we finish the season where we should."
Arsenal supporters have been urged to keep the faith and much hope is being invested in the return of key players from injury.
"It should be a big confidence boost for us, the likes of Jack Wilshere and Bacary Sagna coming back, Kieran Gibbs as well," Szczesny said. "It will help us to get the results that this club deserves."
Oxlade-Chamberlain's eye-catching performance against United came on his full Premier League debut.
"It's a stride in the right direction for me but I realise that there's quality players on the bench and with the boys that are away (at the Africa Cup of Nations), like Gervinho … it's not going to be easy to keep that position. All I can do is keep working hard and try to repay the boss's trust.
"I'm definitely confident in the team. You just have to look around the dressing room. There's quality players wherever you look. We know we've got what it takes and it's just about sticking together from now on and coming out of the sticky patch as a better team."
Follow Emirates 24|7 on Google News.