Arsenal transfer latest: Wenger in for Draxler as Giroud returns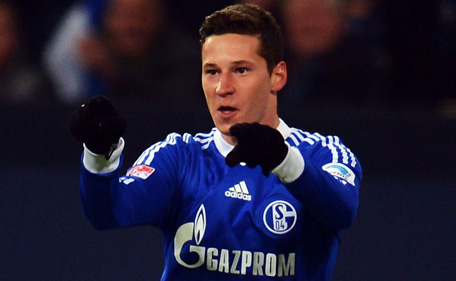 Olivier Giroud returns, but Theo Walcott is gone. And so Arsene Wenger's revolving door of striker headaches continues.

And the whole of the Emirates knows it, Gunners across the world know it, maybe even Arsene Wenger knows.

Arsenal are a striker short

The question is, what is Wenger going to do about it.

This is why reports of Wenger making a move for Schalke 04 star Julian Draxler will come as good news to the Gunners.

According to the Daily Star on Sunday, Draxler has a £40million release clause from Schalke, and Arsenal could be willing to trigger it .

Giroud will return to boost Arsenal's hopes of returning to the top of the Premier League when they travel to face Aston Villa on Monday.

Chelsea's victory at Hull on Saturday dislodged Arsene Wenger's side from the summit, but a fourth successive league victory will ensure the Gunners are once again setting the pace in the title race by the time they leave Villa Park.

The prospect of Arsenal topping the table early in the new year was hard to imagine when they were booed off following the 3-1 home defeat to Villa on the opening day.

But since that low point Arsenal have been transformed, with Giroud's eight league goals a major factor in the north London club's success.

The France forward has provided his side's main goal-threat but concern about a lack of back-up was brought into focus when he missed the last two games to give him a much needed test.

Giroud, though, will be back at Villa Park and Wenger said: "Giroud needed a rest physically and he got one, and I am convinced he will come back refreshed and ready to score again.

"What is most important, for Olivier Giroud and for me, is the team produces a good collective performance.

"Whether he scores or somebody else, we have plenty of people who can score and for me it is always most important that we play the football we want to play, and after anybody can score in my team."

With England winger Theo Walcott out for the season with a knee injury and Danish forward Nicklas Bendtner sidelined with an ankle injury, Wenger's forward options are limited.

But the manager is confident the recent return of Lukas Podolski following a four-month absence with a hamstring problem can plug the gap.

"If there is one player you want to see in front of the goal in a shooting position, it is him because Podolski is certainly one of the best finishers I have ever seen," Wenger said.

"He can play that central role when he is completely fit and is one of the potential assets we have there.

"When he is physically ready, he will of course help us."

Arsenal will also be without Welsh midfielder Aaron Ramsey, but Alex Oxlade-Chamberlain could return after a five-month absence with a knee injury.

Villa surprise

Meanwhile, Villa manager Paul Lambert hopes his team can repeat their surprise victory at the Emirates Stadium as they bid to improve their disappointing home record.

Villa have won just twice at Villa Park in the Premier League this term and were booed off by their supporters last weekend after falling to a shock FA Cup home defeat to League One side Sheffield United.

"We got knocked out, there's no getting away from it," Lambert said.

"No-one expects us to get anything against Arsenal. They're a great team going for the title, with one of the best players around in Mesut Ozil and a great manager in Arsene Wenger.

"We worked hard and played without the ball for long times on the opening day. We looked good on the break. Gabby Agbonlahor was fantastic. Everything worked for us that day.

"I don't have any problem with the crowd - if the team is not performing you expect the crowd to vent their frustration. The crowd has been excellent but they expect things to happen.

"We have to play with freedom and have to play well with and without ball. We know we can hurt them if we're on it and create things."

Lambert will make a late decision on whether to play skipper Ron Vlaar (calf), but Brad Guzan and Agbonlahor are fit.
Follow Emirates 24|7 on Google News.