Balotelli could quit Premier League - agent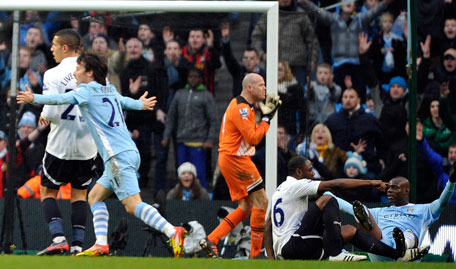 Manchester City striker Mario Balotelli feels persecuted and could quit English soccer if what he sees as unfair treatment continues, his agent said on Tuesday.

The 21-year-old Italian, facing a four-match ban after being charged with violent conduct by the FA after an incident in Sunday's Premier League win over Tottenham Hotspur, has hit the headlines for a series of controversies since joining City in 2010.
"I think he feels persecuted; he cannot go on like that," agent Mino Raiola told BBC Radio 5 Live.
"We had a very clear image of his career at the beginning and I have told the press openly Mario will have to stay at Manchester City for at least three or four years, helping the club on this important project and grow as a man and a player.
"Obviously if he's being banned every three or four games for one reason or another we cannot go on like that and there needs to be an end to that.
"So if that's the case and English referees and the English FA would like Mario to go out of England then we would take that seriously in consideration, even if that's not and was not our intention."
Balotelli scored a stoppage-time winner from the penalty spot in the 3-2 victory over Spurs but later found himself in hot water after video replays showed he had appeared to stamp on the head of Tottenham midfielder Scott Parker.
Referee Howard Webb took no action at the time.
Balotelli, who has been sent off three times in barely 18 months with the club, has until 1800 GMT on Wednesday to appeal but assistant coach David Platt suggested on Tuesday that such appeals were sometimes futile.
The club lost their appeal against centre back Vincent Kompany's red card earlier this month and he serves the final of a four-game ban in Wednesday's League Cup semi-final second leg at Liverpool, where City will seek to overturn a 1-0 deficit.
Earlier, Raiola accused England's leading referee Howard Webb of lying over the alleged headstamping by his player on Scott Parker.
Webb - who refereed the 2010 World Cup final - took no action over Balotelli's apparent deliberate headstamping of Parker but subsequently said that if he had seen the incident he would have sent the City player off.
However Ballotelli's agent took issue with Webb's claim.
"I am very angry with the referee, because he lied," Raiola told Italian station Radio Radio.
"The TV images clearly show that the referee is no more than a metre away and that he is looking towards the incident, how can he say that he did not see what he was looking at?"
Regardless of Webb's intervention after the match Balotelli is staring at a four game suspension after being charged with violent conduct by the Football Association (FA) on Monday.
He will begin it on Wednesday - thereby missing the League Cup second leg semi-fnal tie with Liverpool and three Premier League games - should he not appeal the charge.
Meanwhile, Paris Saint Germain sporting director Leonardo on Tuesday said the club's audacious move for Tevez was dead in the water with negotiations having stopped.
Leonardo told the website of sports daily L'Equipe that "negotiations have stopped" amid reports that the player will Thursday reveal where he wants to end up when he returns from Argentina.
"We have stopped negociating. We made a fine offer but we have been unable to reach agreement," said Leonardo. "Today there's not much movement in the (transfer) market. There was an opportunity and we studied it.
"We are not going to exaggerate when it comes to our proposals so we stopped - it's over."
The 27-year-old Tevez is also a target for both Milan clubs and is understood to prefer a move to Italy rather than France to end his exit at City.
He has been out of favour since he allegedly refused to take the field as a substitute in a Champions League game against Bayern Munich last September.
AC Milan are believed to be favourites ultimately to land the striker's signature but Inter harbour hopes they may yet win the race for a player that City say is worth 37 million euros.

Follow Emirates 24|7 on Google News.