Barcelona will play natural game: Guardiola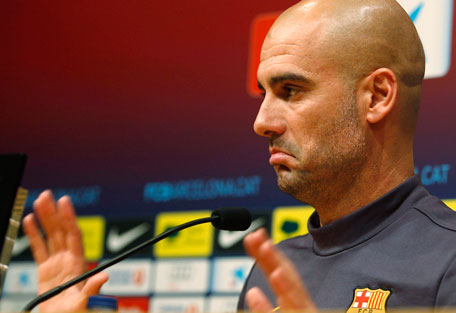 Barcelona manager Pep Guardiola said on Tuesday that if his side was content to simply "play for a result" in Wednesday's second leg of their Spanish Cup quarter-final against holders Real Madrid they would be knocked out.
Having come from a goal down to win the first leg 2-1, Guardiola insisted Barca - who lost to Real in the final last season - would only be thinking about victory in front of their own supporters.
"If we only play for the result, they will eliminate us for sure. I understand playing for a result in the last five minutes, but not before. We can't play by just looking at the scoreboard. We will have to again play a very good match.
"I imagine a very tight quarter-final, where the two sides will have chances to go through.
"Real are better than us at shooting from long distance and much better on the counter attack. It is therefore very possible they will score. That's why we have to attack to score as well," added the Barcelona boss.
Guardiola also highlighted the threat posed by Real regardless of whether they opt for an attacking or defensive approach at the Nou Camp.
"All (tactics) are dangerous. If they press high, they immediately put you in difficulty. If they sit back and wait for you, your lines get stretched and you're out of position to block their counter attacks."
As for Pepe, the villain of the first leg who escaped with a slap on the wrist after his stamp on the hand of Lionel Messi, Guardiola said his side had put the incident behind them.
"Leave Pepe alone. Let him know we forget the past. The sanction is not our business, we are focussed on the match tomorrow."
The Barca coach also called for calm from the home fans, hoping there will be no repeat of the vitriolic abuse Luis Figo received ten years ago that included having a pig's head thrown in his direction, following his controversial move from Barca to Real.
"If what happened with Figo happens again, it's us who will not have learned the lesson. I'm sure that the fans are sorry for the manner in which we behaved."
Follow Emirates 24|7 on Google News.