Capello blasts FA over Terry captaincy decision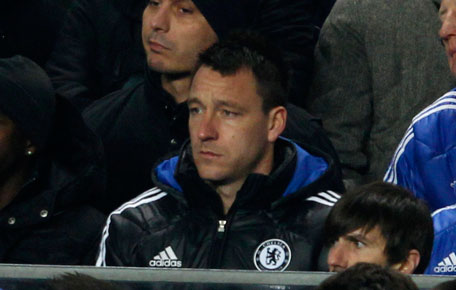 England manager Fabio Capello has hit out at his employers the Football Association (FA) after they stripped John Terry of the England captaincy due to racism allegations.
Terry, 31, was relieved of his duties on Thursday due to an ongoing court case in which he is accused of racially abusing Queens Park Rangers centre-back Anton Ferdinand during a match last year.
But that is a decision Capello says he is not comfortable with.
"I don't agree with the decision, I spoke with the chairman (David Bernstein) telling him that in my opinion Terry cannot be punished until the court's decided - that's the civil justice, not the sporting one - that Terry has done that which he is accused of," Capello told a football programme on Italian Rai public television.
"For that I felt it was right that Terry should keep the captain's armband.
"However, the fact that the Board has taken this decision is their right when it comes to England."
Terry's court case is not due to take place until July 9, after the European Championship finals in Poland and Ukraine and the FA felt it would be inappropriate to keep him as captain with suspicion hanging over his head.
"Following the decision to adjourn the court case against John Terry to July, the Football Association confirm he will not captain the England team until the allegations against him are resolved," said the FA's statement on Thursday.
"This decision has been taken due to the higher profile nature of the England captaincy, on and off the pitch, and the additional demands and requirements expected of the captain leading into and during a tournament."
The case has attracted huge media attention in England, due in no small part to the fact that the England dressing-room is a multi-racial environment and is likely to include Ferdinand's brother Rio.
Capello's outburst is unlikely to come as a surprise to England's decision-makers, though, who were well aware of the Italian's stance.
"Fabio Capello has not been involved in the FA Board discussions which reached this conclusion, but understands the FA Board has authority to make this decision," Thursday's statement said.
This is not the first time Terry has been stripped of the captaincy.
Two years ago, following allegations about an affair with a team-mate's ex-girlfriend surfaced in the notorious English tabloid press, Terry was removed as captain with Rio Ferdinand installed in his place.
However, due to Ferdinand's injury problems making him often unavailable for England duty and a messy episode in a friendly against Denmark a year ago in which the captain's armband was handed around like a pass-the-parcel package, Capello decided to reinstate Terry.
Having been snubbed then, Ferdidnand has already publicly claimed he is no longer interested in the role.
"I don't want to be England captain after the last episode, just want to concentrate on playin for United and if I make the squad then as ever I'll be delighted," Ferdinand announced on Twitter.
Terry has always strongly protested his innocence and has been backed by his club manager Andre Villas-Boas, who has kept him as Chelsea captain.
"It is an unfortunate event and an event which doesn't dignify British football," Villas-Boas said.
"We have to let the persons be called to court and the court make the necessary decision."
However, with the court decision not due until July and with Capello's act of defiance, this story is likely to rumble on.
Follow Emirates 24|7 on Google News.