Carrick warns City of Man Utd backlash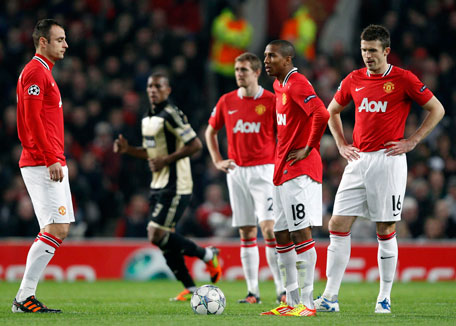 Shunning talk of a crisis inside Old Trafford, Michael Carrick insists Manchester City should be wary of a backlash from his Manchester United team when the two rivals meet in the FA Cup this weekend.

After losing back-to-back matches in the Premier League, against Blackburn and Newcastle, United heads into Sunday's third-round match looking to avoid three straight defeats for the first time since 2001.

City will be the favorite, however, after winning all 10 of its league matches at Etihad Stadium to storm to the top of the standings during a campaign in which the team has already beaten United 6-1 away in October.

"The reaction outside is as though the whole world has caved in," Carrick said. "We are disappointed and we are feeling it, but we are not feeling sorry for ourselves.

"We tend to overcome setbacks pretty well here. Hopefully we can do the same again this time."

The clubs will go head to head for the third time this season - United won the Community Shield 3-2 at Wembley in August - in what is rapidly emerging as England's most high-profile matchup.

With another Premier League game scheduled for April 28 and the potential for an FA Cup replay as well as a meeting in the knockout stage of this season's Europa League, the neighbors could be seeing a lot more of each other in the near future.

"The way we and our supporters should look at it is that we may as well get used to it because they are not going to go away," said Ferguson, whose team is three points behind City in the league.

"We have to get used to the fact that City are going to be challenging for competitions along with us. There's every chance we're going to meet at some point ... on average it's going to be pretty regular."

This may well be a good time for United to take on Roberto Mancini's team.

City - the FA Cup holders - will be without its two main holding midfielders, with Gareth Barry suspended and Yaya Toure joining his brother and teammate Kolo in linking up with the Ivory Coast squad in Paris on Saturday ahead of the African Cup of Nations.

Yaya Toure, who scored the winning goal in City's 1-0 victory over United in last season's FA Cup semifinal, has arguably been the team's most consistent player this season.

Mancini is also without Mario Balotelli (ankle) while fellow striker Edin Dzeko is nursing a knee problem.

"I have one striker and two midfielders," claimed Mancini, whose team plays Liverpool on Wednesday in the first leg of their League Cup semifinal.

United will also be desperate to make up for its back-to-back defeats in the Premier League which have left the team three points behind City at the top of the standings.

"The atmosphere will be good, we'll take a load of fans there and hopefully we can get back to winning ways," United midfielder Ryan Giggs said.

Ferguson said on Friday that he has no fresh injury worries after the 3-0 loss at Newcastle on Wednesday, with defender Chris Smalling not yet recovered from a bout of tonsillitis.

There is plenty of opportunity for major upsets in the competition this weekend, with many of the Premier League teams entering the draw at the third-round stage facing teams low down in English football's league pyramid.

The biggest shock would come at Goodison Park if non-league team Tamworth can beat Everton. Fourteenth in the fifth tier, Tamworth is the lowest-ranked side left in competition.

"We all need to look at ourselves and get dusted down and get on with it against Tamworth because they will be right up for it," said Everton goalkeeper Tim Howard, who scored a freak 100-yard (meter) goal in his team's 2-1 loss to Bolton on Wednesday.

"It is a big game for them and it is a big game for us because we need to give our fans something to cheer about. We need to make sure we are up for it."

The other non-league team still involved, Fleetwood, hosts local northwest rival Blackpool, which is seventh in the League Championship after dropping down from the Premier League this season.

"The distance between (the clubs) ... and the fact that we share a lot of fans, for those reasons I don't think we could have got a better tie," Fleetwood manager Micky Mellon.

"If Manchester United came, of course it would be massive ... there would be a lot of hype, but would they send a full-strength side? I think when we play Blackpool, it will be a proper head to head."

Seventy places lie between Tottenham and fourth-tier team Cheltenham ahead of their match at White Hart Lane on Saturday.


Follow Emirates 24|7 on Google News.