Chelsea's Drogba poised for China move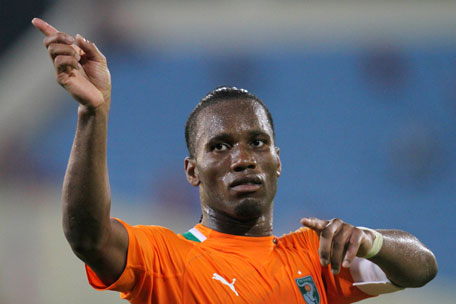 Didier Drogba could be reunited with former Chelsea teammate Nicolas Anelka after reports said the Ivory Coast international may sign for Shanghai Shenhua earning €400,000 ($523,972) a week.
A video clip early this morning made by French television Canal+ revealed Drogba might have agreed a transfer deal with the big spending Shanghai-based soccer club on an annual salary worth €20 million ($26,202,018).
If the deal was confirmed, the 34-year-old African striker will outclass his Cameroon counterpart Eto'o who moved to Russian club Anzhi Makachala and his future teammate Anelka to become the highest paid player in the world, according to the China Daily.
The French TV's video clip reports the possible transfer in a four-minute film featuring Shenhua's winter training in Valencia showing Anelka's training, as well as an exclusive interview with Shenhua's owner Zhu Jun, who spoke of his ambition to make Shenhua the best soccer club in China and even in Asia.
A Shenhua news portal on Sina Weibo posted the French media's video clip on sports.sina.com, but gave no further information on the deal.
However the club spokesman Ma Yue did not confirm such a report.
Before official news released, all reports are not ture, Ma told China Daily.
Shenhua is reportedly also close to signing a deal with former English national team defender Matthew James Upson in the wake of the team's demand for excellent midfielders and defenders, said the Shenhua news.
The Shanghai Shenhua club has been pursuing the Cote d'lvoire international, trying to reproduce the Chelsea forward duo in the Chinese super league with Drogba and Anelka, but no official confirmation has been released.
Previous news revealed that Shenhua has already reserved the No 11 shirt for Drogba when he officially joins the club, but reports also suggested talks between the two sides were still in deadlock.
Shenhua's owner Zhu Jun said on his Sina weibo: "It's like flirting with a girl. Perhaps she will resist you at first, but if you continue to ask her out, it always ends well. Never give up."

Follow Emirates 24|7 on Google News.