City plan £60m bid for Manchester Utd's Rooney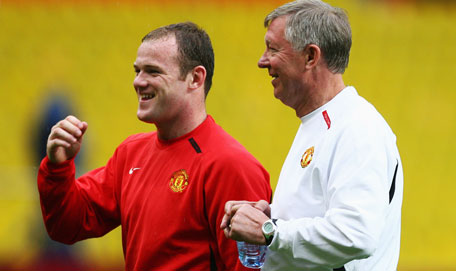 Manchester City are willing to make a another swoop for Wayne Rooney following the much publicised rift between the Manchester United star and Sir Alex Ferguson.
United are considering an audacious £60 million bid for the Manchester United star, according to the Sunday Mirror.
Although Rooney and the club issued a joint statement on Friday to dismiss claims that the relationship between the player and his illustrious manager has been damaged beyond repair, tensions continue to simmer between the two biggest personalities at Old Trafford, the report said.
If the peace pact agreed by United and Rooney's advisers fails to hold, Roberto Mancini will ask the Abu Dhabi owners to bankroll a £60 million transfer that will stun football, it said.
This will be City's second attempt to prise Rooney away from their bitter rivals it was revealed in October that the England striker wanted to quit Old Trafford.
At the time Ferguson persuaded United's owners that they could not afford to lose their best player – even if it meant paying him £250,000-a-week – and a new contract, keeping Rooney at United, was urgently brokered.
But Old Trafford insiders claim the rift between Ferguson and Rooney has never been fully healed.
The United boss was furious that his personal ambition – as well as the club's commitment to the future – was questioned by Rooney when the striker explained his reasons for wanting to quit the club.
The recent breakdown in their relationship erupted when Rooney was dropped for last Saturday's 3-2 Premier League home defeat by Blackburn Rovers for "disciplinary reasons" after a Boxing Day night out with team mates Darron Gibson and Jonny Evans.
The reports said Gibson and Evans were also fined a week's wages by manager Alex Ferguson and, like Rooney, ordered in for extra work on their day off due to their lethargic performances in training the morning after their alleged night out.
Although Rooney was recalled for the subsequent trip to Newcastle, he was substituted as United lost 3-0.
With United being linked to Chelsea's Frank Lampard and rumours of Paul Scholes being asked to come out of retirement to help them stave off an injury crisis at Old Trafford, has also fuelled speculation of Rooney's imminent exit.
Rooney took to Twitter to blast the claims: "My future is with Manchester United and the club and I am totally committed, the manager and I have no issues and anyone who says different doesn't know what they're talking about."
However, following successive defeats against Blackburn and Newcastle the problems between Rooney and Ferguson have once again came to the fore.
Mancini remains a big admirer of Rooney and is in the market for another match-winning forward with Carlos Tevez virtually a non-entity at the club.
The City boss would have to find significantly more than the £50 million they were ready to pay for Rooney because he still has almost four years left on the contact he signed in 2010.
Ironically, Manchester United's next fixture is an FA Cup third-round clash at holders Manchester City on Sunday.
ALSO READ:
Follow Emirates 24|7 on Google News.