Dalglish set to unleash star Liverpool trio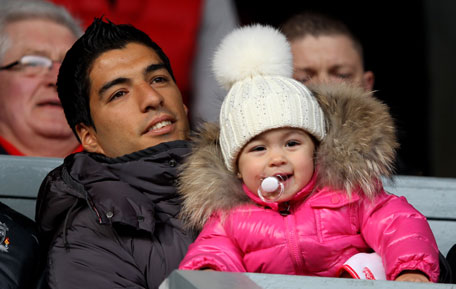 Kenny Dalglish is relishing the prospect of unleashing his star attacking trident for the first time when Liverpool take Tottenham on Monday night at Anfield.
With Luis Suarez returning from his eight-match suspension, the Reds boss is mulling the opportunity of going on all-out offensive against Spurs who pulverised when the two sides met in the Premier League in September.
Since Andy Carroll and Luis Suarez arrived at Anfield last January, injuries and suspensions have meant they have never started a game together with Steven Gerrard.
Andy Carroll is finally starting to settle into life at Liverpool, while talismanic skipper Steven Gerrard has recovered from his long term injury to inject his class into the Reds midfield.
Tottenham's arrival will present Dalglish with the rare opportunity to play all three of his stellar names.
The grand total of them all being on the pitch together currently stands at 69 minutes.
"I've been told the three of them have only played 60 minutes together," he said.
"For various reasons I don't think they've had a great deal of time to play together on the pitch, but the West Brom game away in October comes to mind that Luis and Andy did well.
"Luis played Andy in for a goal that day and so we hope to see more of them together. I am happy we've got all the strikers fit and available at the moment. Within the team partnerships will develop."
Dalglish is in a buoyant mood after a turning over the fortunes of the club which he took charge a year ago.
He has steered them to the final of the Carling Cup, fifth round of the FA Cup and they are now poised to challenge for a Champions League spot.
Progress
"We're excited with what's happening here lately and I think everybody can say they have moved the club on a little bit," he said.
"We've made good progress. And I don't think we need to look so much at the results against the two Manchester clubs to justify it.
"There was progress all along. The squad's much stronger now than it was last year - which is progress.
"We can't look back on ifs, buts and maybes in terms of dropped points at home, but we've still a lot of football to play."
Meanwhile, Liverpool flop Carroll has got support from an unusual quarter.
Spurs assistant boss Joe Jordan says £35 million Andy Carroll will prove to be an asset for Liverpool.
"I also went for a lot of money and I can tell you it is not easy," said Jordan who was bought from Leeds by Manchester United in 1978.
"We tried to buy him but Liverpool comfortably beat us to it," added the ex-striker who also went from United to Milan in 1981. "No disrespect to Newcastle but Liverpool are a far more massive club. They are huge world-wide.
"And the expectancy is so much greater when you go for a lot of money. He needs to adapt to Liverpool ways and they need to adapt to him. Along the way it will happen, I am sure of that.
"I believe that when Liverpool and Carroll work it out, they will be fine. Yes, I think he will be a success."
Follow Emirates 24|7 on Google News.