Gerrard slams Liverpool fans for doubting Dalglish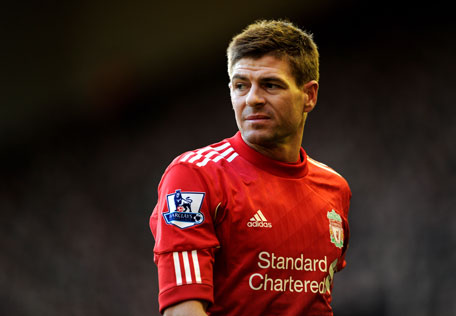 Steven Gerrard has sprung to the defence of Kenny Dalglish who has come under pressure from Liverpool fans after their recent slump in form.
The Kop skipper challenged Liverpool FC to secure their first appearance at Wembley in more than 16 years as the Anfield outfit entertain Manchester City on Wednesday in the second leg of their Carling Cup semi-final clash.
"The few whispers about a change of manager after one defeat is ludicrous, absolutely ludicrous and I just take no notice of that at all," said the talismanic Liverpool star who missed much of the season to injury.
"We all know what it's about at Liverpool. If you get a bad result some people cry out for change but you need to accept that and get on with it."
Gerrard's penalty at Eastlands a fortnight ago ensured a slender advantage for Dalglish's side, who have yet to appear at the new Wembley and last played under the old Twin Towers in 1996.
The Reds have won just once in the league in their last six matches, and a nightmare weekend display at Bolton led to a level of criticism that suggests the Anfield icon's honeymoon period is well and truly over.

He is furious some supporters are doubting whether King Kenny is the right man to boss the club.
"The thing that needs to change is the people here need to try and not put in performances like the one against Bolton, but get back to the way we've been 95 per cent of the time under Kenny," he said.

Fans are fuming over Saturday's shock 3-1 defeat at Bolton — and the fact they have taken just a point this month.

But Gerrard argued: "We are playing better football and I'll argue to the death with anyone who says we are not as good a squad as last year.

"We totally understand that certain sections of supporters will be getting frustrated but it is down to us to put it right."
Dalglish has been most seriously criticised for some of the signings he made since replacing Roy Hodgson as manager, with the likes of Andy Carroll, Stewart Downing, Jordan Henderson and Charlie Adam all singled out by so far sceptical fans.
Gerrard, though, believes the new additions have strengthened the squad, even if they haven't yet set Anfield alight. "Those players know themselves. They know how they are playing. They know what form they are in," he said.
"But what I can say is that those players are working so hard to put in good performances. They are not giving up, they are not throwing the towel in, they are working day in, day out.
"We all know those three players you have mentioned are good players, and we are playing better football and we are a stronger squad. I will argue to the death with anyone you says we are not as good a squad as last year, but you are judged on results and it is up to us to turn these draws where we are huffing and puffing but not getting the breaks into wins.
"I don't think we are far away. I think we are close. We have proved on our day that we can beat anyone in the league. The evidence is there. But on the other hand we have also proved that we can lose to anyone in the league. That is what we have to learn."

Dalglish himself was highly critical of Liverpool following the 3-1 defeat at the Reebok Stadium, suggesting that players would be sold unless they improved their attitude.
"When you put in a performance like we did as a group, you expect criticism especially off your manager," Gerrard said.
"That is his job and we need to be big enough men to take it on the chin and show a reaction because performances like that, individually and collectively, aren't good enough for this club.
"We didn't need telling really.
"I knew at half-time and I knew after the game that that hadn't been good enough.
"Kenny spoke in the dressing room after the game and on Monday before training.
"He wasn't angry, he just said it as it was.
"He didn't lose his rag or his control.
"He told individuals and us as a group that it wasn't acceptable.
"As the captain of the team that is down to me and he went through all of us.
"For me, and I hope the other lads are thinking the same, we have to look at ourselves individually and give a big reaction on Wednesday because it is a massive game."
Dalglish believes the public dressing down of his players was justified.
"I think what was said had to be said," said the Liverpool manager.
"It's a difficult thing to do but I think it was an honest thing to do as well.
"I don't think anybody can hide behind a performance like we had on Saturday and I don't think anyone would try to do that.
"In the past we've rightly praised them when they've deserved it, we've given them plaudits when we've done well and we've congratulated them for the way they've gone about their work.
"We have to be honest in our appraisal when we've been bad as well."
Dalglish is likely to make changes for Wednesday's game with the likes of Jay Spearing, Stewart Downing, Dirk Kuyt and Martin Kelly all pressing for a starting role.
Liverpool can turn things around instantly by reaching Wembley and becoming overwhelming favourites to lift the trophy.
"That is the danger - going into the game thinking that we're 1-0 up and that we need to protect that lead. These are too good an opponent to try and do that against," said Gerrard.
"On their day City are one of the best out there at the moment. But there's nothing to fear with them. We've proven we can beat them. We proved in the first half of the first leg we can be better than them and with our crowd behind us and with such a big prize at stake I've got an inner belief and a confidence that we can achieve it."
Follow Emirates 24|7 on Google News.