Gerrard wants Liverpool to target double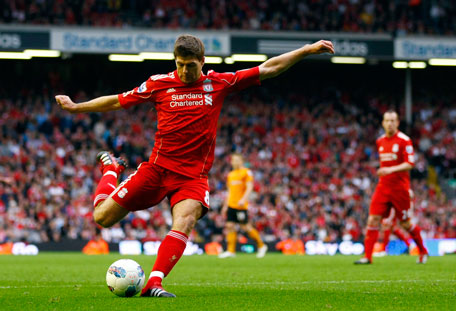 Steven Gerrard has called for calm ahead of Saturday's FA Cup fourth round clash against Manchester United even as the Liverpool talisman eyes a double after knocking out Manchester City in the League Cup semifinal on Wednesday night.
The Premier League giants go head to head at Anfield with the Luis Suarez-Patrice Evra racism row which erupted in October still simmering.

The Liverpool captain said: "We all have a responsibility to ensure this game is remembered for the football.
"Liverpool and Manchester United is a massive rivalry and there is going to be stuff in the newspapers and banter between fans.

"But it would be fantastic if it is remembered for being a top game and, from our point of view, a Liverpool win.

"We don't want any front-page stories from this game or any stories which are not about a football match between two top sides - and may the best team win."

Suarez was banned for eight games following the incident with Evra in and emotions are still running high ahead of the fourth-round clash.
United boss Sir Alex Ferguson is adamant he is only focussed on the match and echoes Gerrard's belief that the players must ensure thing don't get out of hand.

Ferguson told reporters: "It's a massive game for both clubs. There's a tremendous profile on it. There will be interest throughout the country.

"As Steven Gerrard said, there is a responsibility on the players to behave properly. That is what I expect my players to do, and also the fans.

"Both sets of fans have got to make sure we are talking about the game and nothing else. It can be that way because there are a lot of good players on the pitch.

"It is a big game and at the end of the day we want to talk about a game of football.

"You just have to concentrate on the game. We have to try and play our game – that helps. Both sets of players have to be aware of that. I'm confident there won't be problems."
Liverpool manager Kenny Dalglish has also called on players, fans and the media to make sure Saturday's FA Cup clash with Manchester United passes without controversy.

"We want to concentrate on going out and playing football and any other sideshow is purely that, it is just a sideshow," said the Reds boss.

"Everyone has a responsibility to uphold the names of their respective club and anyone who reports or comments on the game also has the responsibility to make sure they are not trying to incite trouble.

"But it is not only the fans who have to behave themselves; we have a responsibility to behave - but that is the case every time.

"I am sure everyone will be determined to make sure what's done has been done and whatever your grievance is, keep it to yourself and let's get on with the game."

Dalglish expects another hard-fought encounter at Anfield - within the laws of the game.

"It would be a huge disappointment on both sides if either team did not compete as well as they can," he said.

"They are highly-charged matches but that is because players take great pride in the clubs they represent.

"We have to go on the pitch and compete. You cannot take away the competitive edge from a football match and we won't be taking away ours.

"But we have an opportunity to play football and that is all they (the players) want to do."
High-level talks have already taken place between Liverpool and United top brass while the FA have also reminded both clubs of their responsibilities.

There have also been meetings with Merseyside police, which also involved the FA as part of their strategic planning.

On the other hand, Gerrard has urged his Wembley-bound team-mates to refocus ahead of their FA Cup clash.
Liverpool set up a Carling Cup final against Cardiff City after they defeated Manchester City 3-2 on aggregate following a thrilling second leg at Anfield on Wednesday night.

As Kenny Dalglish's side face United on Saturday lunchtime, Gerrard is determined to ensure the Reds knock out their rivals.

He told Liverpool's official website: "We've got to dust ourselves down and get our recovery in because in just over 48 hours we've got a massive game in the FA Cup and we want to do the same in that competition - we want to go a long way."


Follow Emirates 24|7 on Google News.