Henry's 'dream' goal fuels Arsenal hopes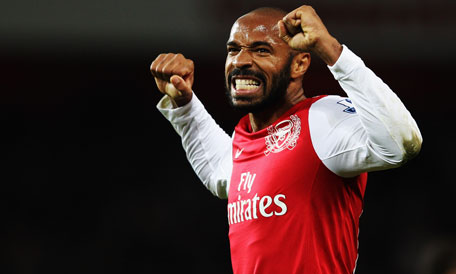 Arsenal manager Arsene Wenger described Thierry Henry's winning goal in his emotional comeback match against Leeds United as "like a dream".
The 34-year-old former France international needed just over 10 minutes to score the only goal of the game at the Emirates Stadium on Monday in the FA Cup third round tie.
Henry came off the bench in the 68th minute and disposed of the Championship side with a high-quality finish having taken a pass from Alex Song on the left of the penalty area.
It was his first game in an Arsenal shirt since 2007 when he left for Barcelona, returning to the Gunners last week in an eight-week loan arrangement with the New York Red Bulls.
Wenger was aware that such a story was of the fairytale variety, with the club only just having unveiled a statue of the Frenchman outside the stadium to mark a record tally of goals that has now gone up to 227.
"He was already a legend here and he has added just a bit more to the whole story," purred Wenger.
"It was a little bit like a dream because it was the sort of story you would tell to young kids that you want to know about football.
"Unfortunately it's not often like that in our game - but sometimes it happens."
Wenger admitted that Henry had taken a gamble on returning to the club, simply because of his previous exploits.
Yet Wenger had always had faith that the comeback had been the right decision for both parties.
"You could see straight away when he came on that he was a presence on the pitch and if we could find him he could be dangerous," he said.
"In training I could see that he was sharp. I would not have put him on the pitch if he was not ready, that would have been unfair."
Now Wenger is hoping Henry can have an equally beneficial effect on Arsenal's Premier League and Champions League schedules until he returns to the States.
"He is a special player and what is a good thing for the young players is that he has done it all yet still prepares 100 per cent, is focused and is motivated," said Wenger.
"He has an immense desire to do well.
"He was under some pressure. He is a proud guy and doesn't want to disappoint people. He knows he will be compared to what he has done before but that's what champions are about - they always want to be seen as people who do well.
"It's a kind of combat."
Wenger had allowed top scorer Robin van Persie to miss the match and must now ponder how to get the best out of Henry and the Netherlands international, starting with Sunday's trip to Wales for the Premier League clash with Swansea.
"I haven't decided yet. Robin will be back against Swansea but whether Thierry will start or not I don't know.
"They can play together, of course. They did play together before."
Leeds defended stoutly and attacked whenever they could but manager Simon Grayson knew that Henry's arrival had been likely to tip the balance in Arsenal's favour.
"We defended well as a team, the desire and attitude was fantastic and we came very close to getting a result," he said.
"But it was probably written in the stars that what happened would happen and that's the class of Thierry Henry."
Arsenal, who will be without defender Francis Coquelin for a number of weeks because of a hamstring injury sustained in the first half, will now play Aston Villa at home in the fourth round later in the month.
Follow Emirates 24|7 on Google News.